Anything to Save the Plan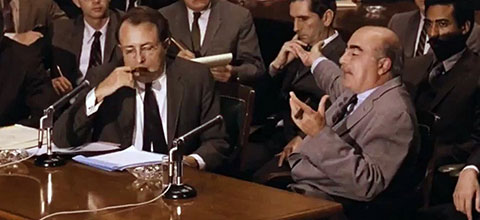 Selections from the indictment of Roger Stone on charges of perjury, obstruction, and witness tampering. HPSCI is the House intelligence committee. Person 2 is Randy Credico, a former WBAI radio host whose talk show was canceled in November 2017 because of his "internet bullying". Organization 1 is WikiLeaks.
Stone had testified — lied — that Credico was his connection to Julian Assange, and he was leaning on Credico to back his story. Credico wasn't agreeing.
On or about October 19, 2017, STONE sent Person 2 an excerpt of his letter to HPSCI that identified Person 2 as his "intermediary" to Organization 1. STONE urged Person 2, if asked by HPSCI, to falsely confirm what STONE had previously testified to, including that it was Person 2 who provided STONE with the basis for STONE's early August 2016 statements about contact with Organization 1. Person 2 repeatedly told STONE that his testimony was false and told him to correct his testimony to HPSCI. STONE did not do so. STONE then engaged in a prolonged effort to prevent Person 2 from contradicting STONE's false statements to HPSCI.
In or around November 2017, Person 2 received a request from HPSCI to testify voluntarily before the committee. After being contacted by HPSCI, Person 2 spoke and texted repeatedly with STONE. In these discussions, STONE sought to have Person 2 testify falsely either that Person 2 was the identified intermediary or that Person 2 could not remember what he had told STONE. Alternatively, STONE sought to have Person 2 invoke his Fifth Amendment right against self- incrimination. For example:
On or about November 19, 2017, in a text message to STONE, Person 2 said that his lawyer wanted to see him (Person 2). STONE responded, "'Stonewall it. Plead the fifth. Anything to save the plan' . . . Richard Nixon." On or about November 20, 2017, Person 2 informed HPSCI that he declined HPSCI's request for a voluntary interview…
On multiple occasions, including on or about December 1, 2017, STONE told Person 2 that Person 2 should do a "Frank Pentangeli" before HPSCI in order to avoid contradicting STONE's testimony. Frank Pentangeli is a character in the film The Godfather: Part II, which both STONE and Person 2 had discussed, who testifies before a congressional committee and in that testimony claims not to know critical information that he does in fact know…
On or about April 9, 2018, STONE wrote in an email to Person 2, "You are a rat. A stoolie. You backstab your friends-run your mouth my lawyers are dying Rip you to shreds." STONE also said he would "take that dog away from you," referring to Person 2's dog. On or about the same day, STONE wrote to Person 2, "I am so ready. Let's get it on. Prepare to die [expletive]."…
On or about May 21, 2018, Person 2 wrote in an email to STONE, "You should have just been honest with the house Intel committee . . . you've opened yourself up to perjury charges like an idiot." STONE responded, "You are so full of [expletive]. You got nothing. Keep running your mouth and I'll file a bar complaint against your friend [the attorney who had the ability to contact the head of Organization 1]."
Add a Comment
Please
log in
to post a comment