Suborn Again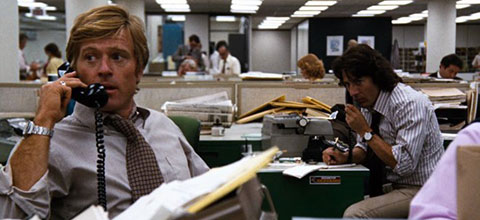 There's a scene in All the President's Men that a few folks like us were reminded of Friday night. It's October 1972, before the election, and Woodward & Bernstein publish a major scoop: Nixon campaign treasurer Hugh Sloan has testified to a grand jury that Chief of Staff H.R. Haldeman controls the campaign's illegal slush fund.
And just as they break out the champagne in the Washington Post newsroom, all hell breaks loose.
Sloan's lawyer denies the testimony. The White House and allies pile on, casting doubt on all other Watergate stories. Mark Felt — Deep Throat — worries that other Watergate source will run for cover, lacking confidence that Woodstein will get their facts right.
("Woodstein" was the duo's conjoined nickname. This stuff started long before Brangelina.)
Funny thing about that story: Haldeman did control the slush fund. But Sloan had never testified about it. Nobody asked.
What brought that episode to mind Friday night was Robert Mueller's office issuing a vague denial over Buzzfeed's story that Donald Trump had told his fixer Michael Cohen to lie to Congress — suborning perjury, as legal geeks call it. If proven — and Buzzfeed suggested there was plenty of corroborating evidence — that would be an impeachable action, a smoking gun. Maybe not as much fun as the Pee Tape, maybe not as treasonous as, well, everything else, but hey, they nailed Capone on income taxes. You work with what you got.
As it stands Saturday morning, Buzzfeed's story remains unconfirmed by other news outlets. Mueller's nonspecific denial is notable for the fact that his office never comments about anything. Nor does it leak — everyone suspects the Buzzfeed's sources are in the Southern District of New York, where the feds are also investigating Trump shenanigans. And Buzzfeed's editor is standing by his reporter's story.
We, however, are neither a reporter, a prosecutor, nor a member of a relevant House committee, so we can say it: Well, duh. Donald Trump is a known idiot. He ran the family business like a personal fiefdom. He is the brand. Sophisticated maneuvers like plausible deniability are foreign to him. Of course he told Cohen to lie. Not that he needed to — the relationship with your fixer presumes much — but he would want to make sure.
Also, as TPM's Josh Marshall reminds us, Trump wrote Junior's denial about the Trump Tower meeting with the Russkies. Trump has, y'know, a personal interest in how this goes down. Some shit you don't delegate.
But what we know doesn't make a documented case, and you need that if you're a prosecutor, or a congressional committee — or a reporter. We used to be one. We entered journalism school a year after the movie came out. There's a reason that scene immediately came to mind: We once lived in fear of it.
Add a Comment
Please
log in
to post a comment