Loose Lips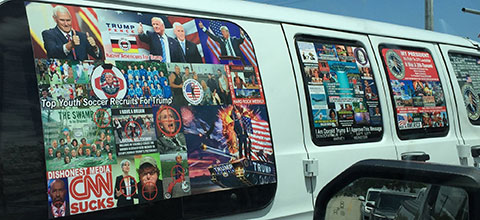 We're comfortable blaming Trump.
We're comfortable blaming the politicians who support Trump.
We're comfortable blaming the people who support Trump.
We're comfortable blaming anyone who doesn't recognize violence in political rhetoric, or who deliberately conflates colorful insults with incendiary language.
We're comfortable blaming anyone who doesn't take this shit seriously.
Thing is, we know the difference. We know the difference between someone calling supporters of her opponent "deplorables", and someone calling the news media "enemies of the state". We know what someone means when saying "When they go low, we kick them." We even know that maybe "you get out and you create a crowd and you push back on them, and you tell them they're not welcome anymore, anywhere" is pushing it, although we also know that the person saying it doesn't hold much weight in her party, or enjoy much recognition among the general public.
We know these things. We know the difference. We're all grownups here.
We know the dishonesty of people playing up a Shakespeare production, or providing a comedian's bad visual gag much more publicity than she would have gotten on her own. We know the dishonesty of finding any leftist violent act possible to counter the prevalence of rightwing violence over the past generation. We also know all the moves to evade responsibility — blame — for riling up a crowd, online or live, with violent fantasies, only to write off anyone actually conducting them as disturbed loners.
America always turns into a bad-faith ethics seminar in moments like this. Where the conversation should be moral — and political — we jump to legal framing. Of course no one is responsible for the deeds of another. Any system of justice that cast implied blame would be heinous, and heinously manipulated. It is the man who sent the pipe bombs whose guilt must be proved in court, not the man who egged him on.
But the law is limited that way, and understandably so. The law is the state, and the state must be constrained.
We are under no such constraints. We are free to judge. We are free to condemn. We are obligated to judge and condemn, as moral actors cursed with consciousness, as critters with a conscience. To not condemn the condemnable is to condemn ourselves, to evade our own responsibility.
And so we condemn. We evaluate, we judge, and we condemn.
Damn everyone who lets this happen. Damn them all to hell.
Add a Comment
Please
log in
to post a comment