The Imperial Senate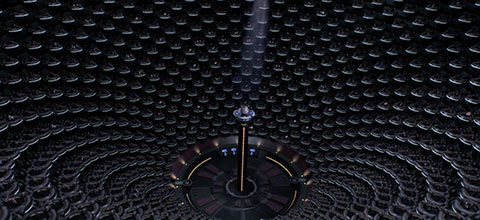 We didn't watch. We couldn't.
There was nothing to be gained from watching. What we could know, we already did — not only about the witnesses, but the circumstances. It was yet another setup, yet another event engineered to provide the appearance of legitimacy without the substance. We couldn't watch, because we couldn't participate in yet another sham ritual. We're done with that.
We couldn't watch, but we did follow. We followed the responses, followed the reaction, followed the news coverage that accepted the sham as legitimate, which is why we're done with news coverage, at least political news. We're too old for this. We know too much.
Here's what we know: The Senate majority represents 18 percent of Americans.
That is a sham of legitimacy as well.
That number is not expected to improve over the next twenty years, the next generation. An illegitimate Senate approves nominations from an illegitimate President to stack an illegitimate Supreme Court for decades. The consequences will, have been, and are, real.
We're living under a tyranny. The despotism against which our nation was founded — to establish the Consent of the Governed — has returned.
When we watch the response to Thursday's charade, we're watching for just this, an awareness of tyranny, a recognition of the system we're living under, of the power cynically and ruthlessly wielded by the representatives of that 18 percent of Americans. It's not just a life of privilege enjoyed without consequence, it's not just the network of corruption that privilege has exposed — it's why this is even happening, why we're being subjected to this when the citizens of our nation have expressed their wishes for something else entirely.
And we see signs, a few, call them green sprouts — not just from the usual suspects like us, but from folks we would expect to buy in, who might otherwise be prone to join the tribe of tribalists, who might be inclined to fret about Two Americas, but who suddenly notice that something's wrong here, that our democracy is imperiled not by the idiots running the show, but by the show itself.
Green sprouts. It's not like they're taking to the streets tomorrow.
What's distressing about such an awareness, and one reason why it's resisted, is that nothing can be done about it. The structural fix is in. The Senate will not be reconstructed, the Electoral College will not be abolished, the Supreme Court will not be impeached, because the very people who benefit from the sham, and benefit greatly, would have to agree to it.
But if there is nothing to be done about it, nothing practical, we can still be aware of it. We can live in truth, as one witness did during the hearing, and another did when challenging Jeff Flake in a Capitol Hill elevator Friday morning. We can live in truth, see our government for the illegitimate sham it is, and wait for others to join us in that awareness.
There's power in numbers. Overwhelming power. A nation's citizens living in truth, at least a substantial number of them, will have consequences.
And that is our hope for the future, that the power of the Citizen Gaze will have its own effects, that either things must change within the means provided, and if not, things will change by other means, as expressed by the document citizens hold sacred. A revolution is called for, by any means available.
Meanwhile, living under the system we have now, that tyranny of sham legitimacy, we still have the means to ameliorate the worst of it, to pull levers, punch holes, scribble in bubbles. That too is part of the sham, arbitrary lines drawn and rights arbitrarily denied, but it is not yet thorough, not yet total, not yet Dear Leader elected with near-unanimity. Not yet.
And in less forty days, we have our last, best hope of keeping things from getting worse than they already are. Maybe we'll see a few more green sprouts. That we would watch.
Add a Comment
Please
log in
to post a comment