A User's Guide to Our Illegitimate Government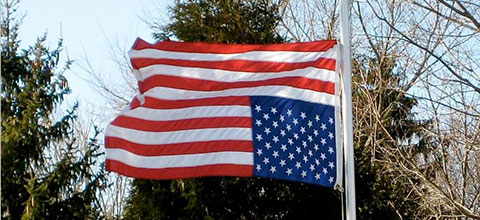 Come Tuesday, when an unrepentant rapist is sworn into our nation's highest court, the despotism of our government will be complete.
The President who nominated Brett Kavanaugh and Neil Gorsuch will have taken office without the consent of a majority of voters.
The Senate majority that confirmed both represents only 46 percent of the population.
And between them, a Supreme Court majority will be established that lasts a generation.
You can take it further, if you'd like: Two other justices — John Roberts and Samuel Alito — were also named by a President who failed to win the confidence of voters in his first election. That he nominated them in his second term only underscores the point that he had a record to run on in the first place, that we cannot know how President Gore would have fared in 2004, or who might have opposed him. That history is now lost to us.
The first thing to do is acknowledge this, that our representative government no longer represents us, that we are not living under a democracy, but despotism. What we can and cannot change about it, short of a revolution to echo our first, is a separate issue. We must live in truth. We must not accept the lie that this is the way things must be.
That acknowledged, the next thing to grant is that given the structural power of snall states, the Constitution won't be changed anytime soon. The nine largest states hold half the American population, and good luck convincing 25 other states to cede their undemocratic influence.
(Puerto Rico would come in thirtieth, by the way; DC boasts more citizens than Vermont and Wyoming.)
Given all that, what tools are available?
Supreme Court appointments are not irrevocable. Impeachment remains available, and under different language than a President — "during good behavior" is the condition of that lifetime term. And since impeachment is a political process anyway, good behavior means anything the House wants it to mean — say, lying during your confirmation hearings, or facts about magically disappearing loans coming to light. Never mind the practical impossibility of getting the Senate to convict: If a solid case can be made, publicly, then it should, that we may further appreciate the illegitimacy of our rulers.
There's also nothing Constitutionally mandated about having nine justices, as any student of FDR knows. The number was changed a half-dozen times before settling on a baseball team in 1869. Cranking the Supreme Court to 11 should be on the table, should the opportunity present itself.
At the other end of the chain, we won't be rid of the Electoral College in our lifetimes, but there is no requirement that electors reflect the popular vote of their states — the contraption was originally conceived as a hiring committee, after all. To that end, the National Popular Vote compact now covers 172 electoral votes, under legislation that kicks in once a majority is reached: These states would vote for the actual winner, settling the matter.
Which brings us back to the Senate, home of that minority tyranny. Half the Senate itself only represents 18 percent of the population. We're Constitutionally stuck with two senators per state, even states that merit only one Representative by population — Alaska, Delaware, Montana, North Dakota, South Dakota, Vermont, and Wyoming, to be specific. That's fourteen senators right there, in case you're wondering just how despotic the Senate really is. Half the country only gets eighteen.
But while a simple Senate majority can pass any bill it wants, senators can also establish their own procedures, which is how we ended up with the filibuster — a loophole of parliamentary process that took a generation to be noticed. An enlightened Senate could require the assent of Senators representing half the population before a bill or nomination moves to the floor, and while a tyrannical minority could still vote it down, the procedure itself would highlight the deeply undemocratic nature of the institution for everyone's edification.
It all doesn't sound like much, but that's life under a despotic power, and the sooner a substantial number of citizens are aware of this — particularly those who write for national publications — the sooner we might actually be able to do something substantial about it.
Or we could just cut to the chase and have another revolution. If a government lacks the consent of the governed, the governed can always burn all it down and start over.
Add a Comment
Please
log in
to post a comment