Chronicle of Our Death Forestalled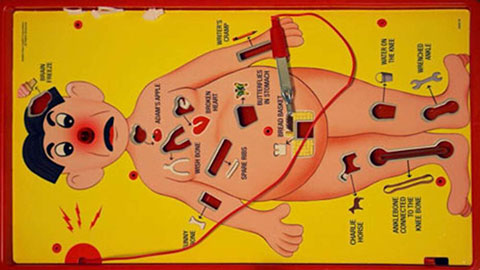 Our story — this one, anyway — begins during that fateful spring of 2010. We, like the rest of the country, were watching the sausage that was the Affordable Care Act being made. The bill, as it had evolved, was not the one we had preferred — can you say Public Option? — but after the compromises that had preceded its introduction, and the politics that had attended its debate, we threw up our hands and were ready to accept a half-measure instead of no measure at all.
Pass. The. Damn. Bill.
So the bill passed, and upon its implementation, we bought health insurance — for the first time in twenty years. This was even more of a novelty than it sounds. For most of our adult life, as a grad student and a freelancer, we've gone without. The secret, we learned, was never to get sick.
Which worked out pretty well. Except for that emergency appendectomy. The doctor rushed us to the hospital and into surgery, with a brief stop at the front desk to take out a loan.
That was thirty years ago, and it made a fun story — how we asked for a local instead of a general anesthetic, since that would shave an expensive day or two off our stay. How, looking at the itemized bill, we noticed we were charged a few bucks for footies. It was worth it. Our feet were cold.
Anyway, Obamacare passed, we bought insurance, and last winter, out of the blue, they mailed us a Shit Kit — poop on a stick, mail it back. That was fun! They included a cute little biohazard baggie and everything!
Time passes, and eventually we get the results in the mail — along with an invitation to schedule a colonoscopy. Blood in the Stool, worst Dylan track ever. But the hospital roto-rooter team is backed up, and they can't snake a cam up our ass until late July. No problem! Probably hemorrhoids. Maybe we'll have to buy one of those cushions.
Ever have a colonoscopy? We have pictures we'd love to share with you. Lucky for us, they didn't find the gerbil.
They did find polyps. Three of them. Snipped them off right there, since they were up our ass anyway. Sent them off to the lab.
And here's where things start moving really fast. Some three weeks ago, we get a call. Yeah, uh, one of those polyps? Not good. Care for a cat scan? Oh, and we'd like for you to meet with one of our friendly surgeons.
A few days later, we're in Friendly Surgeon's office, and he takes us on a guided tour of our innards, which is some pretty awesome tech, if you've never had the pleasure. Here are your lungs, here's your stomach, here's your colon — oh, and that spot down there, that's your cancer.
Uh-huh.
But hey, easy fix: We'll just cut a slice below your belly, yank out your colon, cut off that lower bend, stitch the ends back together, and stuff it back in. Done and done.
How's next Tuesday?
Sure, why not. Which is how we found ourself undergoing major surgery last week to remove a cancer we barely knew we had, and would never have suspected had we not mailed in our poop months earlier because they asked for it.
Sigmoid colectomy is the medical term. They want to make sure the cancer's all dug out, and they really want to make sure it hasn't reached the local lymph nodes, which apparently are a superhighway to the rest of your body. That can happen if you wait too long. Like, if you don't know the cancer's there in the first place.
Or you can't afford the operation.
Retail price for the adventure is around $33,000. But we're only on the hook for around seven grand, because golly, we're insured!
And that's it, really. The cancer hadn't spread, so no chemo. And the operation itself was pretty much painless — the mildest tummyache at worst. We didn't even get to groove on a morphine drip. They sent us home after a few days with nothing more powerful than Tylenol and Motrin.
So we're now a cancer survivor, following a heroic battle that lasted a whole week. And if there's one thing we learned from our epic ordeal, one piece of advice we can pass along to our fellow citizens, it's this:
Without Obamacare, we'd be dead.