On Legitimacy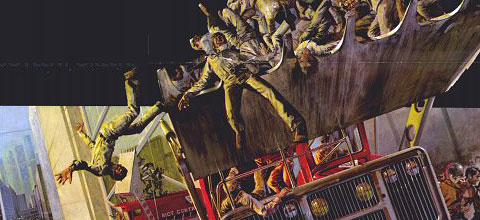 In the Declaration, right after the familiar bit about unalienable rights, there's a passage with more than a little relevance to our travails some 240 years later:
"That to secure these rights, Governments are instituted among Men, deriving their just powers from the consent of the governed…"
This provides a simple, enduring definition of what qualifies as a legitimate government: Lacking the consent of its citizens, no government can claim to rule. Anything less leads to despotism.
The United States is, by the definition of its founders, an illegitimate, despotic government. This was blindingly true at its founding: one race was enslaved, one sex denied the franchise. The high ideals of our founding were not fulfilled by their implementation.
Much remains illegitimate today. A President can be installed without winning the votes cast. Half the Senate represents only 16.2 percent of the population — even less, since citizens in the District of Columbia and Puerto Rico lack any representation at all. The House, nominally divided by population, is prone to such deliberate, precise gerrymandering as to render "consent" a figleaf at best. The franchise itself, supposedly available to all citizens over 18, is subject to all means of undermining — including registration itself.
The United States is a democracy in name only.
For white Americans, a declining majority of citizens, soon to be a plurality, this has not been noticed — that is, where it hasn't been deliberately ignored, or more deliberately abetted. The legitimacy of the national government has not been questioned, even though an electorally illegitimate President will soon have a second Supreme Court nomination approved by a structurally illegitimate Senate.
And really, what's for whites to notice? They voted for Trump by 21 points — and Romney by 20. No wonder whites felt oppressed by an Obama presidency. He wasn't their candidate.
Whites will never acknowledge the illegitimacy of the United States government — much less advocate changing it — because they are the beneficiaries of the undue power an illegitimate government bestows on them, simply through their representation in it.
This includes Elites, accredited participants in the National Conversation, voices that get heard — and widely distributed — not because of the power of their ideas, but the financial support of their sinecures. Why would they question the legitimacy of a government and societal structure that rewards their place in it? Why, having attained a seat at the table, would they declare the table itself to be bogus?
But there it is: Illegitimate by design and practice, illegitimate by the very principles of its founders, hiding in plain sight. The governed do not provide their consent, just a polite fiction of it, a simulacrum.
We have wondered, since late 2016, how long this will take to be noticed, widely noticed, broadly accepted as fact, seen for what it is. And honestly, given the power behind the illegitimacy, the sheer inertia of two centuries of pretense, we don't know that it will ever be. All we can do is point out the Emperor's lack of clothing, the nutritional content of Soylent Green, and hope for the best.
Add a Comment
Please
log in
to post a comment