America's Traitors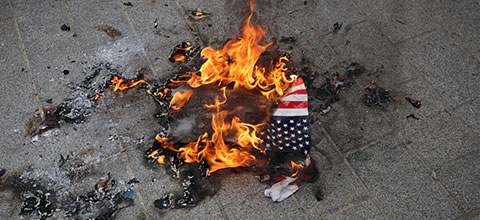 Treason, famously, is the only crime defined in the Constitution. Its conditions are specific: It requires warring against the United States, or — also famously — providing "Aid and Comfort" to its enemies. Only ten convictions exist across our history; half of those involve World War II.
Neither Tokyo Rose nor Axis Sally took up arms against their nation, but their roles as the voices of our enemies — propaganda broadcasters — were sufficient to merit trial and conviction. Their words were deemed as damaging as bullets.
Treason is a crime against a state, and the nation it represents. To commit treason is to undermine the state, to attack the nation, for the benefit of its adversaries.
We call such people traitors.
And right now, traitors are running our country.
This shouldn't be difficult to express. It should, in fact, be painfully obvious. And it was, in December — early December — when the news broke that the CIA had concluded that the Russian government was behind a sustained attempt to undermine one presidential candidate in favor of the other.
At that moment, America's traitors stepped forward — and did nothing. They have done nothing since. They have not used their power to investigate the attack upon our democracy to the fullest extent possible. They have not sought to identify those responsible, nor to determine what weaknesses in our defenses require repair. They have stepped aside as the attacks continue, and will continue into the next election.
They have done this because they benefit from the actions of our enemy, personally and collectively. Their loyalty does not lie with our nation, or the Constitution that defines it. Their only loyalty is to themselves, and they welcome the support of any enemy who can enhance their own power. They look away, they deliberately look away, and seek to block or derail any attempt to get a clear view.
This much is obvious, has been obvious, and will continue being obvious. The language exists to express it. That language is not being used.
This reticence to see traitors clearly and state what they are works to their benefit. For these traitors are not passionate crusaders for a socioeconomic ideology that runs counter to our own. They are not misguided idealists advocating for a system that has no foundation in human nature. They are the most fundamentally cynical people we will ever encounter in public life. They hide behind the civic politeness that presumes good faith in all participants. They know this protects them and their crimes, for those crimes become literally unspeakable.
So let us speak. Let us break the taboo. Let us name names, instead of allowing The Act That Must Not Be Named to persist in our silence.
Mitch McConnell is a traitor. Paul Ryan is a traitor. Mike Pence is a traitor. Each and every Senator and Representative who does not demand and pursue a thorough accounting of the Russian attack upon our nation, and hold collaborators responsible, is a traitor.
And Donald Trump is the most outlandish traitor of them all.
Add a Comment
Please
log in
to post a comment