Into the Woods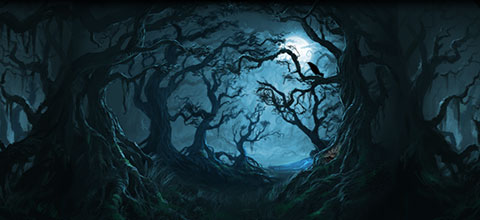 What distinguishes us as a species — besides our singular ability to destroy all creation — is that we tell stories.
We've been telling stories for thousands of years. Our stories try to make sense of our world, and our place in it. Our stories can be fanciful, allegorical, misleading, even literal.
They can also be dangerous.
In politics, stories are called "narratives", a means to cast the events of the day into a broader context. Each presidency has a narrative, a set of themes that come to define an "era". As time passes, this can become a useful shorthand — looking back on the Kennedy Era, or the Nixon Era, you can already start filling in details before another word is mentioned. Stories are very efficient.
Narratives are not, in themselves, pernicious — we're human critters, that's what we do. But narratives presume narrators, and that's where the problem arises, especially in the moment. Everybody wants to be the narrator of the ongoing story. Everybody wants to define the moment. Especially dramatic moments, where the story takes an unexpected turn.
One of our most durable stories is about growing up, coming to adulthood, accepting grim responsibility and abandoning feckless youth. We love that story, especially when it involves the powerful among us. We all want to be Shakespeare, casting Prince Harry into immortality, even if all we have to work with is Falstaff.
Or rude mechanicals.
A few weeks ago, a friend told us that his new girlfriend binge-watches CNN, apparently in the hope of "staying informed". We explained that the effect would be exactly the opposite, that the more you watch, the less you know. This isn't because CNN lies to your face like Fox News, but instead because the few useful facts you might glean are buried in hours of useless chatter, and your time would be much better spent pursuing other sources.
And then we stumbled across an interview with Jeff Zucker. Zucker leads CNN these days, but he's also a network veteran who made his bones running the Today show in the 90s. And if you think that explains everything you need to know about him, an efficient story that resonates far beyond its few words, well, you are correct.
But you might also want to know this: Zucker "casts" CNN. Its pundits aren't chosen for any wisdom or insight they might impart, not even to fulfill some old-school quest for "balance" in its coverage, but to become characters in the CNN Story, that neverending reality soap you can't miss for a day. You're not tuning in for a Progressive or Internationalist perspective, but to hear what your TV pals Van or Fareed have to say, and what plot that evil Corey is up to.
It's as if Paddy Chayefsky didn't write a movie, but a manual.
But it's easy to ignore CNN, as we strongly advise. It's much harder to avoid narratives that turn up all over the place in "straight" political news, purported coherence that dangerously obscures the facts. Big Wins here. Major Setbacks there. Pivots in-between.
And always, everywhere, the moment when the Boy becomes a Man, and the Man becomes a President.
Even if the man is a septuagenarian Peter Pan who never grew up.
Add a Comment
Please
log in
to post a comment