The Gatherings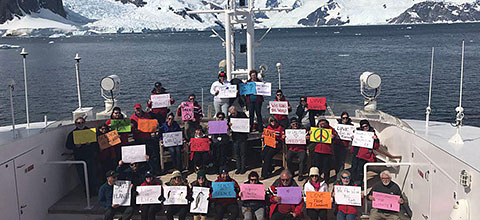 We're not sure what we expected. We're not sure we expected anything. Coming of age in the Seventies, in liberal college-town Eugene, "protests" were such a tired tool that we mercilessly mocked each week's low-attendance chantfest. "Moral preening" was not an expression in currency at the time, but it would have fit.
So we woke up Saturday morning, saw the initial reports of the crowd in DC: Good for them. No, really: It already looked more packed — and clearly more joyous — than the Inauguration the day before, and symbols matter a lot these days. Just ask the Hamilton cast.
And then we saw a video of the Denver crowd.
Denver, where we've now lived a year and a half, is a nice place. Sunny three hundred days a year, which is the second thing you hear, after Mile High. (Okay, maybe now the third thing, after Legal Weed.) We're part of the population boom that's been turning Denver and Colorado blue — the next Portland, and trust us, Portland wasn't Portlandia when we were growing up, although the seeds were evident.
The Denver crowd was huge. We don't have the numbers, but it immediately reminded us of last year's Super Bowl parade, and nothing else. We drive through Downtown Denver every day, past the Capitol. It ain't Midtown Manhattan.
Then we checked the temperature: 33 degrees, one above freezing. Dressing for Denver is part of life here, but still: That's plenty cold if you're doing anything except skiing or cheering the Broncos. And the Super Bowl parade was much warmer.
You'll hear about DC, you'll hear about New York, you'll hear about Chicago, and what you'll hear is worth hearing. But what grabbed our attention was the crowd in the cold a couple miles from our warm rowhouse.
Oh, and the small protest in Antarctica. You can't help but love "Cormorants for Climate".
Friday's Inauguration was a deep bummer, the dread we had been feeling since November made manifest. Saturday's protests — national, international, local — erased that from our soul. Trump lost by nearly three million votes, and those voters are taking their victory to the streets, where everyone can see them. And, unlike the rote protests of our youth, we have full confidence that everyone won't just go home tonight and be done with it.
Barack Obama — the inspirational Obama, no stranger to massive crowds — always took pains to deflect attention from himself, to throw the love back. "Change will not come if we wait for some other person or some other time," he told us. "We are the ones we've been waiting for. We are the change that we seek."
It was easy to project that change on him, to miss the message while venerating the messenger. And now that he's gone, we're suddenly discovering that he was right all along.
Add a Comment
Please
log in
to post a comment