Hillary's Secret Weapon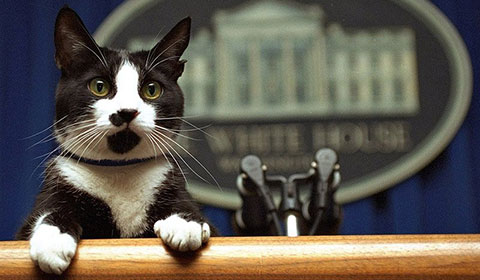 Okay, no, not Socks. For one, Socks is, uh — are the children upstairs? — dead. Carrying around the desiccated husk of the former First Cat is probably bad optics.
And even a Reanimated Socks wouldn't test well in focus groups. Cat Lady vibes, for one. And, more broadly (oops! sorry), feminine vibes. Dogs are Manly. The American public approves of Manly Presidential Critters, which is why Bubba got Buddy, whom nobody remembers, because Buddy was a Usurper of Socks' rightful throne.
No offense, Buddy, but you were just a dog. Socks owned the joint, as cats do.
Anyway: Hillary could use a cat, because being around a cat would bring out some humanity in her, which she sorely lacks. Unless it was one of those Bond Villain white cats, which it probably would be, so never mind, sorry to bring it up.
But humanity is what Hillary needs, if she's going to defeat Donald Trump. Not feigned humanity — please, dear gawd, not feigned outrage, or feigned maturity, or feigned whatever her consultants tell her to feign this week.
No, Hillary needs honest-to-gosh real humanity. The kind, y'know, real humans express.
Let us explain. The last time America faced a real demagogue, not just one of legions of demagogue wannabes, was generations ago. People lived in absolute fear of him. Reputations were shattered, lives were ruined, attacks were useless.
Until one afternoon, a meek but very human gentleman said those words that have lived in history:
"Have you no sense of decency, sir, at long last? Have you left no sense of decency?"
And just like that, Joseph Welch slew the dragon of Joe McCarthy.
Humanity is an amazing thing. It works wonders.
Bernie Sanders exudes humanity. He can't help it — it glows from every pore. Bernie could stand up to Trump, be his delightful curmudgeonly self, and take care of business.
But, for whatever reason, Bernie's popular appeal is limited to Cool White Kids, and he's not going to be the Democratic nominee. We'll just have to wait for Elizabeth Warren to find her footing.
That leaves one other politician in America capable of dispatching Trump on a public stage.
And, luckily for the presumptive nominee, she's married to him.
Whatever you think of the man himself — and please, be our guest, think the worst — Bill Clinton is a master politician. His understanding of policy, and his ability to express that understanding in a thoroughly engaging manner, remains unrivaled. His star turn at the 2012 convention was mesmerizing. He's still got it.
Bill Clinton is thoroughly human.
Imagine Bubba debating Trump, either in person or (more likely) via Dueling Soundbites. Wouldn't that be fun? Trump pulls one of his Schoolyard Bully moves, Bubba just laughs it off, then goes into a critique of Trump University that gets to the heart of the matter, the real people who spent real money on empty promises.
Marco can't do that. Rafael can't do that.
And lord knows Hillary can't do that either.
The campaign, to their credit — the only credit we're willing to give them so far — knows this. Besides the millions they'll be wasting on attack ads, and the empty slogans they'll be putting in Hillary's mouth — "Make America Whole Again"? Really? — they know that sending Bill into the field, whatever the (highly entertaining!) risks, is the only way they can contain Trump.
Because it takes a human. It's that easy. And we have proof that it works.
Add a Comment
Please
log in
to post a comment