Your Mama I Am, Your Daddy I Am, In The Alley That Sam I Am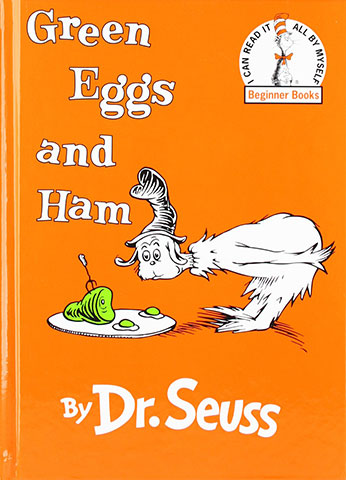 Title: "Green Eggs and Ham"
Author: Dr. Seuss
Rank: 58
Blurb: "Sam keeps asking persistently."
Review…
A local dealer pressures a buyer into ingesting a strange substance for "free". During 80% of the book, the protagonist clearly says "No", but the substance dealer continues to pressure. In the end the protagonist is defeated, ingests the substance, and shows signs of addiction proclaiming outrageous ways in which he'll take this new substance. There is no evidence that the antagonist will continue to provide free samples of the substance once the main character is addicted.
This is done in rhyme & marketed to children.
Customers Also Bought: A violent picturebook about assaulting fathers.
Footnote: Make a searching and fearless moral inventory of your diet.
Buy or Die [Stinque@Amazon Kickback Link]
Add a Comment
Please
log in
to post a comment