Rumspringa for Elites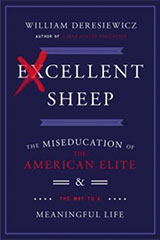 Title: "Excellent Sheep: The Miseducation of the American Elite and the Way to a Meaningful Life"
Author: William Deresiewicz
Rank: 38
Blurb: "Excellent Sheep takes a sharp look at the high-pressure conveyor belt that begins with parents and counselors who demand perfect grades and culminates in the skewed applications Deresiewicz saw firsthand as a member of Yale's admissions committee. As schools shift focus from the humanities to 'practical' subjects like economics and computer science, students are losing the ability to think in innovative ways. Deresiewicz explains how college should be a time for self-discovery, when students can establish their own values and measures of success, so they can forge their own path."
Review: "Although a liberal arts education, as he advocates, may provide tools for developing a 'meaningful life' so will reading, work experience, marriage, parenting, travel, volunteering in one's community, and other significant life experiences. Personal traits such as curiosity, confidence, honesty, determination, and open-mindedness — if nurtured in childhood and maintained through life — are at least as important as knowledge and skills."
Customers Also Bought: "SpongeBath Food Safe Biodegradable Antimicrobial Sponge Cleaner"
Footnote: While we're sympathetic to the sentiment, we can't ignore the brutal fact that college today is fucking expensive, and an Ivy League education requires a small inheritance. Rumspringa for Elites is as useful a notion as advising that everybody take a year off for a Grand Tour.
It's also terribly limiting to insist that you get that self-discovery crap out of the way between ages 18 and 22. We used to joke that we changed majors two years after graduation, because it took some Quality Time in the Real World to realize that our chosen path was horribly wrong for us, and we needed instead to run away and join the circus.
We fully credit our (then-inexpensive) undergraduate education for planting the seeds of our Future Enlightenment, but fuck all if we could have recognized and capitalized on it at the time.
Buy or Die [Stinque@Amazon Kickback Link]
Add a Comment
Please
log in
to post a comment