What Have the Romans Ever Done for Us?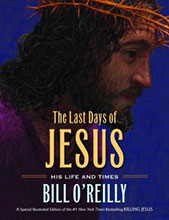 Title: "The Last Days of Jesus: His Life and Times"
Author: Bill O'Reilly
Rank: 10
Blurb: "Two thousand years ago, Jesus walked across Galilee; everywhere he traveled he gained followers. His contemporaries are familiar historical figures: Julius Caesar, Caesar Augustus, Herod the Great, Pontius Pilate. It was an era of oppression, when every man, woman, and child answered to the brutal rule of Rome. In this world, Jesus lived, and in this volatile political and historical context, Jesus died — and changed the world forever."
Review: "My grandson loves to read and has just been baptized. He is a teenager and big into history of all kinds. He learns a lot from the books by O'Reilly."
Customers Also Bought: "RectiCare Anorectal Cream"
Footnote: Actually, Paul changed the world forever. Or Constantine. We don't tend to credit sand for pearls.
Buy or Die [Stinque@Amazon Kickback Link]
Add a Comment
Please
log in
to post a comment