The Way of the Turkey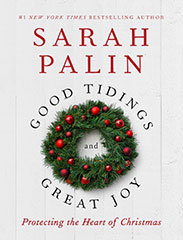 Title: "Good Tidings and Great Joy: Protecting the Heart of Christmas"
Author: Sarah Palin
Rank: 387
Blurb: "In Good Tidings and Great Joy she calls for bringing back the freedom to express the Christian values of the season. She asserts the importance of preserving Jesus Christ in Christmas — in public displays, school concerts, pageants, and our expressions to one another other — and laments the over-commercialization and homogenization of Christmas in today's society."
Review: "Not many days pass any more where I don't ask myself what has happen to our nation."
Customers Also Bought: "Mannheim Steamroller Christmas"
Footnote: The attentive reader will note that we're cheating this week, selecting a book that's not in the Top 100.
Or Top 200. Or Top 300.
This book is brand new — published November 12. You've heard about this book, since the Usual Suspects who squawk every time Palin shows up on teevee have been making the Usual Noise.
And yet: 387. Unlike Krauthammer (#4), Kilmeade (#5), O'Reilly (#6 and #90), Limbaugh (#15), and Beck (#19).
Wingnuts are still buying books. They're just not buying Sarah Palin books. Even Sarah Palin books that pander to the War on Christmas crowd.
Folks, it's time to stick a fork in it. Sarah Palin is done.
Buy or Die [Stinque@Amazon Kickback Link]
Add a Comment
Please
log in
to post a comment