American Horror Story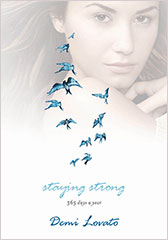 Title: "Staying Strong: 365 Days a Year"
Author: Demi Lovato
Rank: 63
Blurb: "Demi Lovato wakes up each morning and affirms her commitment to herself — to her health, her happiness, her being. Those commitments are the bedrock of her recovery and her work helping other young people dealing with the issues she lives with every single day."
About the Author: "Twenty-one-year-old Demi Lovato's fame began when she was cast on Barney and Friends. From the outside, she was all smiles, but as she grew up in front of the camera — the star of the record-breaking Camp Rock franchise; leading lady of her own Disney show, Sonny with a Chance; and a budding music career — she was falling apart. As Demi entered adolescence, she was being bullied, and she struggled with bulimia, suicidal thoughts, substance abuse, and eventually secretly began cutting herself.
"Her career was taking off, but she bowed out of her world-wide tour and checked herself into rehab, which she successfully completed. She started the Lovato Treatment Scholarship program to help others with their illnesses.
"She's currently entering her second season as an X-Factor judge and her latest album Demi has gone platinum. She will also be joining the fifth season of Glee. Demi has many accolades, including one MTV Video Music Award, twenty-five Teen Choice Awards nominations, 14 of which she has won, four People's Choice Awards, one ALMA award, a Billboard Touring Award and several others."
Review: "So tired of Hollywood's über liberal messages and rants at every turn. This is less empowerment and more preachy left wing brainwashing. Not what I intended for my young daughters. I'll be returning."
Customers Also Bought: "Stay Strong 22×14 Wall Peel 20×12 Wall Decal", "Stay Strong Demi Lovato Wristband Bracelet", "Heirloom Finds Silver Tone Stay Strong Adjustable Flex Cuff Bracelet", and "Stay Strong Wristband Demi Lovato Inspired Bracelet with Red Heart Tattoo Design".
Footnote: In The Truman Show — the rare Jim Carrey movie that ages well — the title character is born into and grows up in a literal bubble, a massive half-dome above the Hollywood sign that contains his entire life, broadcast for thirty years as a 24/7 reality show. Truman finally escapes, in what is intended as an inspirational ending — but we can't help but think that waiting for him outside the dome is an army of agents and producers eager to turn his lifetime of exploitation into an afterlife of exploitation about his exploitation.
Buy or Die [Stinque@Amazon Kickback Link]
Add a Comment
Please
log in
to post a comment