The Gorgon's Lament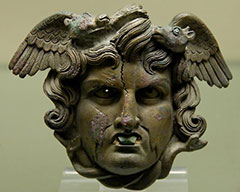 Our guest columnist was not given an opportunity to pre-approve our alt-tag.
Well my-my-my. So this is what it's like up here. Fancy. Goodness, they have snacks. It's a pity about the terrible burlwood coffee table, though. One might guess it's supposed to complement the editor's birkensock ensemble, though some might characterize the effect as more faint praise.
But I digress. What, you may ask, has prompted this post? While I cannot speak to Nojo's lamentable lapse in judgment in giving me the keys to the castle, however briefly, I'd like to point your attention to a confluence of recent events which has given me pause. To whit:
A mayoral candidate, having fallen from grace as a congressman due to several ill-conceived texts involving his schwanzstucker, manages to fall yet again into the same mud – in the process blaming everyone but himself for his own gross overindulgence.
A United States senator, caught lifting huge sections of public material word-for-word for use in speeches and published material, almost all without attribution of any kind, points the finger at his critics. Unaware of the irony, he calls anyone with the temerity to notice a hack.
To the north, in the land of the gentle canuk, a sitting mayor confronted with incontrovertible evidence of his own use of a terribly addictive (and, might I add, disappointingly short-acting) drug, shrugs it off with a simple "So what? I was shit-faced at the time."
…and, as the French say, ca ira. Our teen idols piss in mop buckets and scream drunkenly at pictures of ex-presidents. America's sweetheart performs an act on national television marked not so much by shocking over-the-top naughtiness as it was by informed by the kind of grotty tastelessness that makes an exhibitionist masturbate in public. An Indian-American is crowned Miss America and is confronted by baboon-like howls of racism from the intertoobez at large. And on and on and on…
Now don't get me wrong. I'm a man of the earth, believe me, and as, you well know, am no stranger to the crass. Scatology, in my opinion, was the blague première of Adam, and if they don't laugh when you say "Ass" it's because you haven't said it loudly or often enough. Also, Filipino boy butt, yum. But a Baby Ruth masquerading as a turd is only funny in context, and the outrageous is like a fart at a church picnic – only noticeable if it isn't done next to the garlic potatoes.
Perhaps I'm getting old, but haven't we coarsened dramatically over the past ten years? Monica's spattered dress seems quaint in comparison to the endless parade of Paula Deens and Brian Fishers and saints-preserve-us Ted Cruz-ez-es. We can impugn Weiner's judgment, sure, but at this point which Jane or Jack America can impugn his taste?
Has the internet, with its fisting porn on demand and two-girls-one-cup sensibility coarsened our culture? Have we lost the ability to be shocked because we've been slapped so many times? When did a tweet suddenly count as discourse?
I leave you with this brief interlude from the inestimable Kander and Ebb:
Talk amongst yourselves while I get myself back down to the comments section.
If I can figure out which one of these groovy bead-curtain doorways leads to the stairs.
Add a Comment
Please
log in
to post a comment