Stilts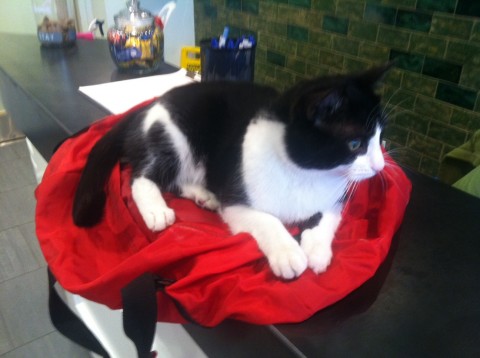 This is Stilts. He is 18 months old. He lived at my vet's office until last week, when he found a home.
Stilts wound up at the vet when a 10 year old threw him out the window because he did not come when called. His back legs were broken to the extent that he almost lost one of them.
The vet put him back together. He now walks normally, and I saw him jump onto a 4 foot high counter with no problem.
We had to put our cat Lili down 2 weeks ago Friday. On Sunday, I went to the vet to donate Lili's prescription food, a leftover bag of Ringers solution, needles, snacks, etc. A few cats live at CityVet, so they can use the stuff. As shown in the photo, Stilts jumped onto the counter and sat down in my bag.
Take me home?
A few people had applied to adopt Stilts but were turned down because they were deemed "not responsible." That Sunday we applied, then later in the day decided it was too soon, so we withdrew. The following Wednesday my girlfriend said "we should get that cat." We applied again. We were approved, but we were second in line. The tech who saved his life took him home to see if he got along with her 2 cats.
He did. Either outcome would have been great for him, but the tech can 1) monitor his health, and 2) take him to work once in a while to see his buddies. He's set for life.
Add a Comment
Please
log in
to post a comment