Nixon's One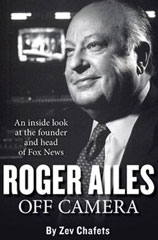 Title: "Roger Ailes: Off Camera"
Author: Zev Chafets
Rank: 6
Blurb: "Ailes loves to fight, but he is a happy warrior who has somehow managed to charm and befriend many of the people he has defeated in political campaigns and television wars. Barbara Walters, Rachel Maddow, Jesse Jackson, the Kennedy clan — all are unexpected Ailes fans."
Review: "Ailes also seems to follow that mid-western folk advice that 'if you can't say anything nice about somebody, don't say anything at all.'"
Customers Also Bought: "The State of White America, 1960-2010" by Charles Murray
Footnote: Roger Ailes blurbs Rachel Maddow's Drift:
"Drift never makes the case that war might be necessary. America would be weakened dramatically if we had underreacted to 9/11. However, Rachel Maddow makes valid arguments that our country has been drifting towards questionable wars, draining our resources, without sufficient input and time. People who like Rachel will love the book. People who don't will get angry, but aggressive debate is good for America. Drift is a book worth reading."
Rachel Maddow explains:
"I have professional contact with a lot of people in the media who don't share my political views. Mr. Ailes and I have politics that are basically exactly opposite, but that's all the more reason I was grateful he agreed to read 'Drift' and to write that kind blurb for the dust jacket."
Unexpected? Yes. Fan? Not exactly.
Buy or Die [Stinque@Amazon Kickback Link]
Add a Comment
Please
log in
to post a comment