Subvert the Dominant Paradigm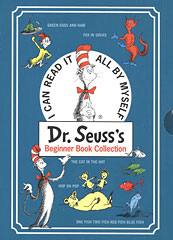 Title: "Dr. Seuss's Beginner Book Collection"
Author: Dr. Seuss
Rank: 94
Blurb: "A perfect gift for new parents, birthday celebrations, and happy occasions of all kinds."
Customers Also Bought: "A Light in the Attic" by Shel Silverstein
Review: "Unless you want your kid to pursue a career as a gangster rapper, or become a huge tree hugging liberal, I would stay away from this set of books." (Squism Chaser)
Other Reviews by Squism Chaser:
"A mature, established, experienced man should have a smell that lets the opposite sex know that yeah, I can still knock around the pool cue a little but I do so on my terms. This cologne says exactly that." (Euphoria Men by Calvin Klein)
"So, I had this huge problem with my neighbors little York terrier." (Havahart Live Animal Professional-Style One-Door Raccoon, Groundhog, Opossum, and Stray Cat Cage Trap)
"My story begins with an inner passion and unwavering desire to become a moonshiner." (15 Gal Stainless Mash Tun w/False Bottom)
"I have never seen a yard go up in flames so quickly!" (Sky Lanterns 14 Pack)
"After I performed the desired chants and had my girlfriend sacrifice a mouse, I managed to open the doors to the next realm." (Crystal Ball Gazing: The Complete Guide to Choosing and Reading Your Crystal Ball)
"When the fit isn't perfect it results with me feeling very dirty." (Depend Protection with Tabs, Maximum Absorbency)
"In order to understand the needs I had for a voice recorder, I believe I should reveal my profession. You see, I am a ghost hunter." (Sony Digital Flash Voice Recorder)
"I guess it was probably right then, right when I was setting it up when the curse began." (Chia Barack Obama)
Footnote: Ladies and Gentlemen, Squism Chaser.
Buy or Die [Stinque@Amazon Kickback Link]
Add a Comment
Please
log in
to post a comment