One Nation Under Godwin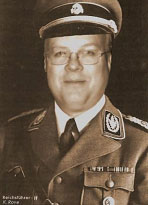 Our guest columnist is totally sorry for comparing Karl Rove to a Nazi.
An email that was sent earlier today under the banner of Tea Party Patriots included an offensive image of Karl Rove. The image was obviously a photo shopped image of Mr. Rove, a well-known political figure. The image was selected in error from an extensive group of images available publicly online and was adjacent to the image that Tea Party Patriots approved for use. The email that included the image was not approved by Tea Party Patriots. Active Engagement, L.L.C. takes full responsibility for this error and is attempting to contact everyone who received the image to explain the error. More importantly, Active Engagement, L.L.C. apologizes to Mr. Rove for this mistake. Active Engagement, L.L.C. does not believe there is any place in political discourse for images such as these.
Add a Comment
Please
log in
to post a comment