Gun Patriot + faulty GPS + Immigrant =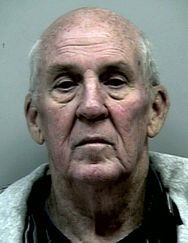 Well, what do you think it equals?
A 69-year-old war veteran and former missionary was arrested over the weekend on the suspicion of killing a 22-year-old Cuban immigrant who mistakenly arrived in his driveway because of faulty GPS directions.
…
Friends who were in the car with Diaz told WSB-TV that they were trying to pick up a friend on the way to ice skating on Saturday but their GPS directed them to the wrong address. The friends said that they waited in the driveway for a few minutes before Sailors emerged from the house and fired a gun into the air.
…
At that point, Diaz tried to turn the car around to leave, but Sailors fired another shot, striking the immigrant on the left side of the head. The group, which included a 15 and an 18 year old, said that Sailors held them at gunpoint until police arrived.
We're not saying that a 69-year-old is not qualified to own a firearm, but maybe, like driving in some states, this privilege (not really a right) should be evaluated more rigorously as the permit holder ages. And hey – this is Georgia – did Sailors even have to pass basic safety?
And you know what? It'll be a Georgia jury – bet you he gets off or the jury is hung.
Add a Comment
Please
log in
to post a comment