Nukefinger Invades Fort Knox of Uranium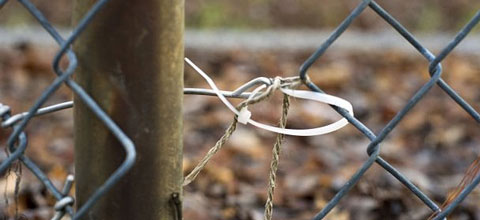 So there's this facility known as the "Y-12 National Security Complex" in Oak Ridge, Tennessee, which "maintains the safety, security and effectiveness of the U.S. nuclear weapons stockpile". We know this because they say so, on the same page where they show a handsome soldier vigilantly guarding our nukes.
Not shown: The hole in the fence.
How did the hole in the fence get there? You can thank Greg Boertje-Obed, Michael Walli and Megan Rice, who infiltrated the highly guarded joint back in July by, how you say, cutting it open.
This created a Big Stink, including two Congressional hearings, and reassurances that it wouldn't happen again.
And, so far as we know, it hasn't. They just haven't bothered yet to fix the fence.
It might interest you to know that Y-12 is considered a "virtually impenetrable installation", the "Fort Knox of Uranium". It might also interest you to know that it's not run directly by the guvmint, but by Babcock & Wilcox and Bechtel. And it's guarded by Wackenhut, whose safety assurances we can surely trust — if not in Oak Ridge, then at least in Kabul.
And the Evil Masterminds who penetrated the world-class security? Well, they style themselves "Transform Now Plowshares". Greg is 57, Michael 63.
Youngsters, really. Sister Megan is an 82-year-old nun.
[via jwmcsame]
Add a Comment
Please
log in
to post a comment