Texas Congressman Calls for Immediate Action on Epidemic of Ping-Pong Violence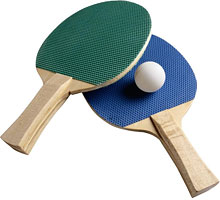 Ladies and Gentlemen, freshman Texas congresscritter Kyle Kacal:
"I've heard of people being killed playing ping-pong — ping-pongs are more dangerous than guns," he said. "Flat-screen TVs are injuring more kids today than anything."
Seven people died playing ping-pong in Germany from 1997 through 2006. Cause of death is unknown.
And 169 kids died from falling flatscreens from 2000 through 2010.
Meanwhile, 2,793 kids died from gunfire in 2009 — 85 of them preschoolers.
Add a Comment
Please
log in
to post a comment