Stagecraft.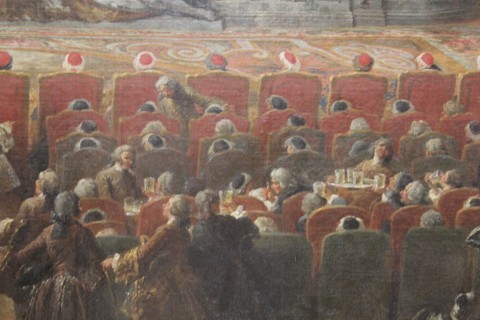 Years back, in the early days of Britain's National Theatre when it was still at the Old Vic, they mounted a revival of Feydeau's A Flea in Her Ear for which they brought over from Paris the celebrated director Michel St Dennis to work with the actors. M. Dennis, immensely experienced in the intricate and subtle workings of farce, would say to them, "Tiens! If you stand zere you will not get zee laugh. If you stand 'ere… " and he'd move them maybe a foot or two upstage/downstage/left/right/… "… you weel get zee laugh." This perplexed the cast but they took him at his word and lo and behold, when they played before an audience, his predictions came true. Now while I don't generally subscribe to the notion that anyone can accurately predict what will make an audience laugh – I find it somehow philistine and rarely productive as audiences will always surprise you – with a man of M. Dennis's experience, it pays to listen.
Which brings me to last night: more than two men clashing over radically differing ideas of tailoring (the Republican ticket seems clueless about how to fit a jacket properly let alone a shirt collar, Ryan looked like a boy wearing hand-me-downs), we had on display two very different ideas on how to use a stage.
Beginners will always try to get as far downstage as possible thinking this gives them an advantage as they're closer to the audience. Wrong.
Last night we saw Romney on his first entrance refusing to sit down till the moderator told him, and then charging aggressively towards her as if this somehow put him in a strong position. It didn't. Going very far downstage is always a weak position. The strong position is always further back. Of course much depends on the set and where everyone else is on the stage and there are exceptions but as a general rule you'll find that's true. The commanding position is always above the rest of those on stage so you can look across and down at them. (In this instance 'up' means away from the audience, 'down' means towards the audience; 'left' means the left side of the stage and 'right' means right; unless you're British in which case when you refer to 'stage left' you are doing it from the audience's point of view which means that the actor will move to the right side of the stage: clear so far?)
The president, who knows better, from time to time was forced to get level with Romney to compare levels of testosterone, but his instinct was to keep back. The open stage, though it differs from a standard proscenium (a shape I prefer, as it gives the actor more control, or perhaps only because I'm more used to it) basic principles still apply. On an open stage it's possible to turn back, to look upstage, and still be in a commanding position open to most of the audience. The trick is to line up with one of the voms (from 'vomitorium', what those tunnel entrance/exit chutes are called) so you're not masking anyone, and turn to your scene partner. This is the one time that getting far downstage works to your advantage. However, done appropriately it's a bold move, meant to isolate a particular moment in a play, not something you can do every other line.
Romney had obviously been coached in assertiveness by those 'experts' who know all about body language but nothing about stagecraft. Hence his insistence on upstaging himself, of allowing the president to hang back in the strong place where he belonged. This is partly why the 'Please proceed, governor' moment was so powerful – apart from the withering contempt expressed by the president who clearly despised last night's scene partner. Utilizing the power of his position the president could underplay the moment, he could insist without being insistent, he had a perfect sightline with the moderator, upstaging Romney who was desperately trying to remember his next line – an experience with which I can sympathize, having been in that situation more than once myself – allowing the camera to catch a fleeting moment of pure fear as the 'governor' (the president's amusing version of Biden's more obvious 'my friend') floundered, smirk free. And of course, being open to the audience, the president allowed them into the scene, hence the gasp, delighted laughter and applause that capped the moment.
Since Romney's schtick is all about projecting Power, it seems ironic that his handlers have no clue how to do it. You'd think there'd be someone around to say 'Darling, not so much up and down. It makes you look desperate. And old. Think triangles. Relax your shoulders. Go left and right.' But apparently not.
Question: Since both the scene partners were wearing radio mics clipped to their lapels why were they holding those microphones? Has no one ever done a musical? You always wear at least two radio mics in case one fails. You don't prance about holding things. Unless you don't know what to do with your hands – a common affliction among those new to the stage – hence all the folded arms in sit-coms.
To keep the hamsters happy, an arbitrary linque to the funniest things I've seen all week.
Add a Comment
Please
log in
to post a comment