The Grace of God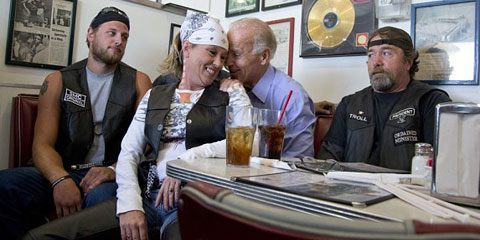 We're supposed to laugh at Joe Biden because he's Comically Awkward — as opposed to, oh, we dunno, Fundamentally Evil — but what is it we're laughing at here?
Are we laughing at Biden demeaning the Office of Vice President — which is famously the most demeaning office in American politics, including Dog Catcher? Are we laughing at the Biker Chick, and shame on us for hating America if we do? Or are we laughing in abject fear of our own untrustworthy instincts?
Looking at this picture puts Biden's excruciatingly earnest convention speech in context: It wasn't that he was doing a bad imitation of Bill Clinton; it was that he couldn't help but do a bad imitation of Bill Clinton. He couldn't help but try, because Bill Clinton will always be the Cool Kid, and Joe Biden will always be The Rest of Us. 
We laugh at Biden from nervousness, because in our hearts we know that we're always this close to doing something equally stupid. And, truth be told, we probably already have.
Add a Comment
Please
log in
to post a comment