Stupid Stuff Mitt Says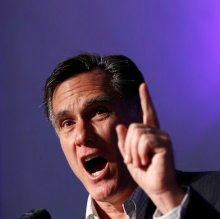 Who preps him?
But in his comments at a fundraiser Sunday evening with well-heeled donors (chief among them current GOP mega-moneyman Shelden Adelson) Romney promptly disabused anyone of the notion that he either fully appreciates, or is terribly concerned with the punishing realities of the Israeli-Palestinian conflict.

In a salute to Israel's economic growth, Romney compared the GDP of his hosts to that of the Palestinian territories as though they were just any old neighboring countries. "As you come here and you see the GDP per capita, for instance, in Israel which is about $21,000 dollars, and compare that with the GDP per capita just across the areas managed by the Palestinian Authority, which is more like $10,000 per capita, you notice such a dramatically stark difference in economic vitality," he said.
Romney (who actually grossly overestimated Palestinian GDP) made no mention of the Israeli occupation, and its restrictions over Palestinian life as being perhaps somewhat determinative in the economic disparity he lauded as a sign of Israel's success.
Add a Comment
Please
log in
to post a comment