I Am Officially Shocked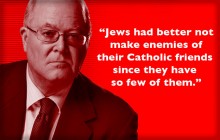 You need to go check this out at Buzzfeed. S'rsly. I'm only posting here in case y'all been under a rock, y'alls.
One thing to bear in mind is that Donohue makes $400,000 for pulling this crap.
It's one thing to piss on the gays – we all expect that – but the Jews??? The motherfucking Jews?????
Add a Comment
Please
log in
to post a comment