Luke Russert, Child of Privilege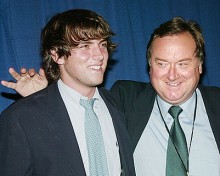 Pareene takes him down, hard:
But our target here is Russert, and he is not personally responsible for NBC's decision to bequeath him a broadcasting job. If we focus on the work and not the means by which Russert got the job, things don't look much better. Initially, at least, the grown-ups on the air always seemed to be holding Russert's hand as he tried to remember his lines, as if he were a child and not a fully grown college graduate and professional. It's obvious that everyone who knew his father loves Luke. But everyone's affection for the kid is not transmissible through a television set, alas, and Russert's appearances seemed like some rich guy's kid's piano recital suddenly taking place in the middle of a professional orchestra's concert.
I could stand Russert doing weather, or telling me how not to confuse Olivia Munn with Olivia Wilde, but politics? Nope.
Add a Comment
Please
log in
to post a comment