Stinque Recipe Challenge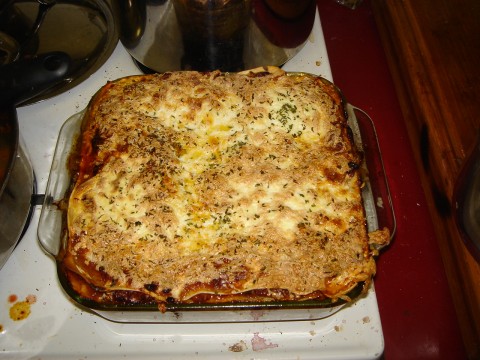 Making lasagna with homemade bolognese – my recipe:
1/8 stick butter
1/8 cup olive oil
3 garlic cloves, chopped
1 medium onion, finely chopped
1 carrot, finely chopped
1 celery stick, finely chopped
Half tablespoon each basil, mint (both fresh if available), red pepper flakes – 1/4 tsp fresh grated nutmeg
salt and pepper to taste
Half lb. Beef – finest kind/grind; ½ lb. Pork – finest kind/grind
6-8 oz. of thick-cut bacon, chopped
1 can tomato paste
3/4 cup red wine
1 ½ cups beef stock
1/4 cup cream (optional)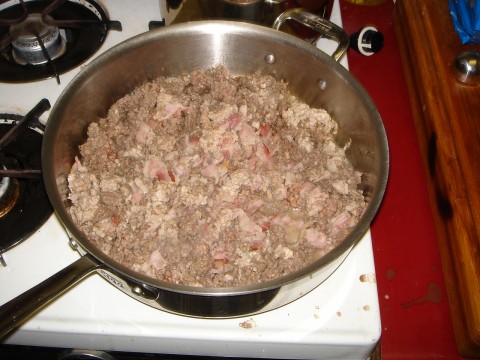 1) brown meat and set aside; heat fat in heavy frying pan on medium, cook garlic slowly until it just changes color, add onion, carrot, celery, and spices, cook until onion is just translucent;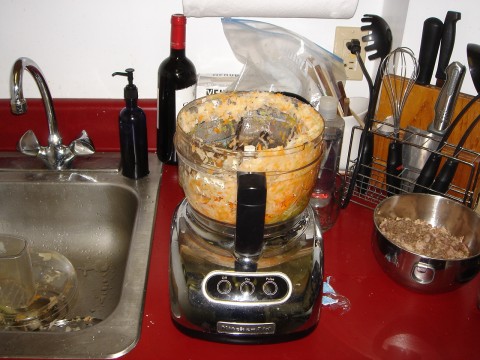 2) raise heat, add bacon and cook for 2 more minutes;
3) deglaze with red wine, cook for 1 minute – add beef stock, stir, then add tomato paste;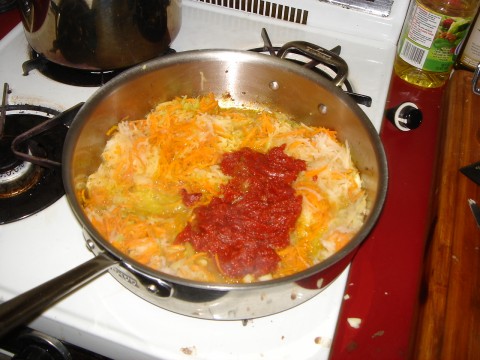 4) cover and cook on lowest heat, adding stock and wine if the sauce becomes too dry – from 2-3 hours, skim fat as necessary;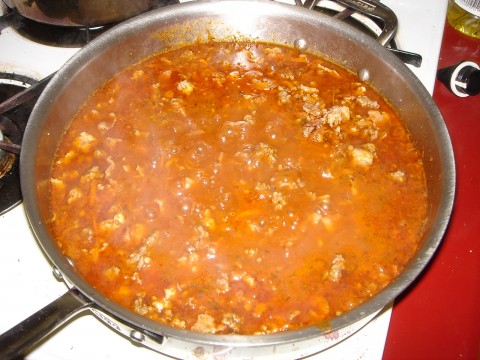 5) finish with cream (optional) – cook 2-3 minutes until sauce sets;
6) serve over fresh pasta, or anything else you wish.
This is a compilation of a bunch of recipes I used to use. I can't emphasize the importance of low and slow. Usually I wind up putting about 3/4 of a bottle of wine in with extra stock (and 1/4 of the bottle goes into me). I use the grating blade in the food processor for the vegetables – they'll dissolve anyway.
This is the bolognese done: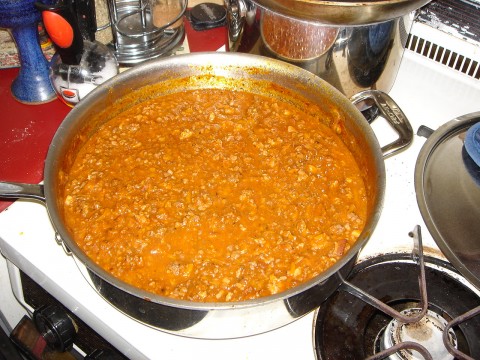 OK – let's assemble this bitch;
Olive oil in the bottom of the Pyrex, then a bottom layer of pasta (ordinarily I'd make the pasta, but sort of tired so I used Fairway fresh pasta – they sell sheets!):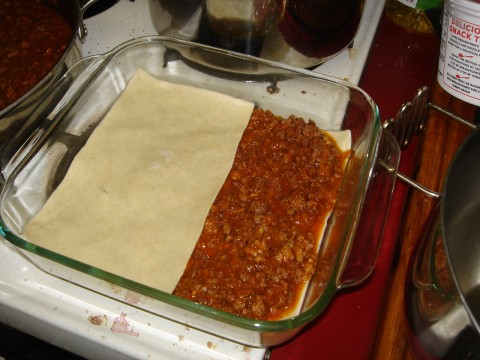 The cheese is 16 ounces of ricotta, a nice dollop of small curd cottage cheese, and an egg yolk …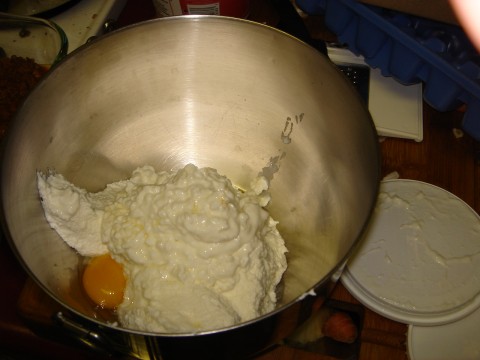 So pasta, meat, pasta, cheese, pasta, meat, pasta, cheese … layer it up, then put leftover cheese, any leftover bolognese, and a thick layer of shredded mozarella, and parsley and basil on the top – used dry spices this time b/c I forgot to get fresh at the grocery store;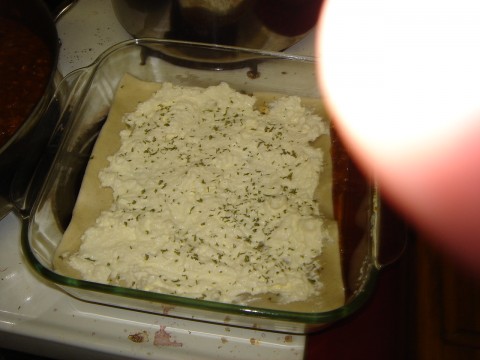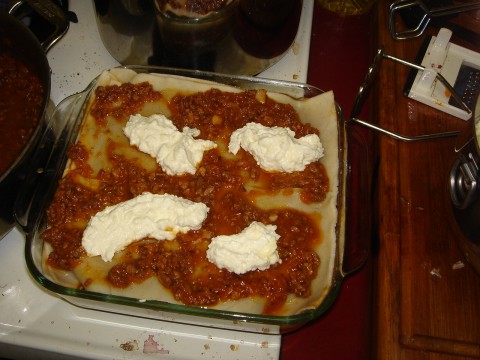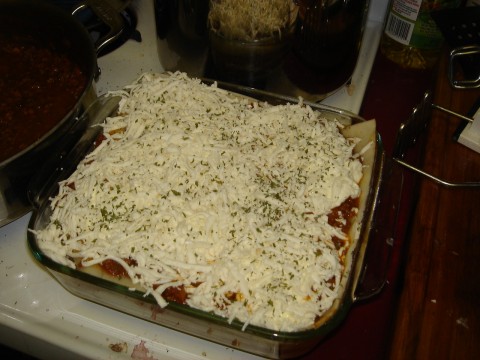 And it goes into the oven for an hour @ 375 and, voila, the result appears in the first photo. Serve it with a nice tomato/basil sauce, because you don't want it to be dry.