Nude! Improved!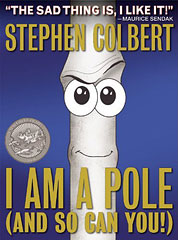 Title: "I Am A Pole (And So Can You!)"
Author: Stephen Colbert
Rank: 34
Blurb: "The sad thing is, I like it!" —Maurice Sendak
Reader Review Spectacular!
"This book should not be read to children. There is one page that illustrates a stripper humping a pole with only tassels on her nipples."
"Then I got to the stripper pole, and the quite graphically drawn cartoon stripper right down to the tassels and heart tattoo on the ankle… I can't imagine how many kids won't get to read this book because of that page."
"I was not prepared to discuss strippers with my 4-year-old daughter. This picture book is not for small children."
"It's not even a good children's book because of the stripper pole frame."
"It's not quite for children, due to the main character's stint as a stripper pole."
"It's too bad that he included a page with a reference to a stripper. Most of the book would have been fine reading to my young son, but now the book is relegated until he is much, much older."
"My 7 year old grandson read this book to me, and when he finished it he said That was funny! The 4 year old and 2 year old Grandsons ran over when he started reading, and enjoyed listening too!"
Customers Also Bought: "Fifty Shades of Grey" by E L James
Footnote: Dad once tried to stop us from reading Mad, and look how that turned out.
Buy or Die [Stinque@Amazon Kickback Link]
Add a Comment
Please
log in
to post a comment