We'll See Your Marx and Raise You Hitler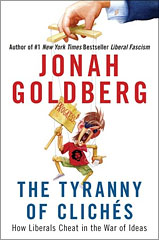 Title: "The Tyranny of Cliches: How Liberals Cheat in the War of Ideas"
Author: Jonah Goldberg
Rank: 65
Blurb: "With humor and passion, Goldberg dismantles these and many other Trojan Horses that liberals use to cheat in the war of ideas. He shows that the grand Progressive tradition of denying an ideological agenda while pursuing it vigorously under the false-flag of reasonableness is alive and well. And he reveals how this dangerous game may lead us further down the path of self-destruction."
Review: "I found it cathartic when Goldberg declares, 'The Marxists who claimed to be ending the masses' addiction to religion then proceeded to slaughter those same masses at a rate unprecedented in the history of human life.'"
Customers Also Bought: "Righteous Indignation: Excuse Me While I Save the World!" by Some Dead Asshole
Footnote: Special Bonus Review!
Take social justice for instance. Who could oppose any kind of justice? Except "social justice" is a term which turns the traditional definition of justice ("to each his own") on its head, transforming it into an indictment of income inequality.
"To each his own" is the English translation of Suum Cuique, first popularized by Cicero. The German translation, Jedem das Seine, could be found over the gates of Buchenwald.
Buy or Die [Stinque@Amazon Kickback Link]
Add a Comment
Please
log in
to post a comment