An Annotated Guide to Fucking Yourself Over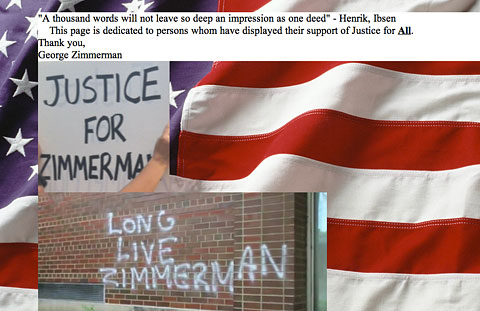 Welcome to TheRealGeorgeZimmerman.com, a new website where you can express your support for The Real George Zimmerman, who has "been forced to leave my home, my school, my employer, my family and ultimately, my entire life," just like the kid The Real George Zimmerman killed, except for the fact that The Real George Zimmerman is still alive.
Our tour begins with an American flag in the background, signifiying that shooting unarmed kids is nothing more than a selfless patriotic act.
Next we visit the Album page, where other selfless patriotic Americans have expressed their solidarity with The Real George Zimmerman. The "Justice for Zimmerman" sign is a gift from Terry Jones, who isn't a member of Monty Python and is somebody who you might remember from such shows as "I'm Gonna Burn This Koran!"
"Long Live Zimmerman" is a site-specific installation by an anonymous benefactor who chose Ohio State University's Hale Hall as his canvas. This came as a surprise to the building's resident institution, The Frank W. Hale Jr. Black Cultural Center, but we're sure they appreciate the added value provided to their building by free expression.
We hope you enjoyed this tour of The Real George Zimmerman's website. Don't forget to leave something in the PayPal tip jar on the way out.
Add a Comment
Please
log in
to post a comment