Today in Trayvon: The More You Know, The More You Don't Know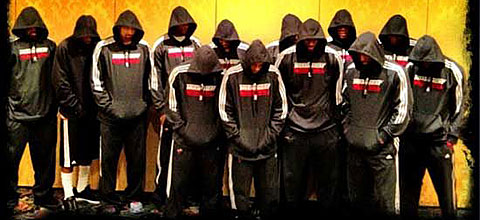 With a single punch, Trayvon Martin decked the Neighborhood Watch volunteer who eventually shot and killed the unarmed 17-year-old, then Trayvon climbed on top of George Zimmerman and slammed his head into the sidewalk several times, leaving him bloody and battered, authorities have revealed to the Orlando Sentinel.

That is the account Zimmerman gave police, and much of it has been corroborated by witnesses, authorities say.
The Sanford police report indicates that a number of witnesses were interviewed the night of the shooting, but their statements are not included. The Sentinel story does not indicate whether the reporter saw the witness statements, but suggests reliance on a police summary.
Not that there's any reason to doubt the police summary, but the events of that night are an Adventure in Epistemology. Also, police typically withhold evidence that might prove useful in an investigation, so there's no reason to expect full disclosure.
With that, a more detailed police summary:
Trayvon was visiting his father's fiancée, who lived there. He had been suspended from school in Miami after being found with an empty marijuana baggie. Miami schools have a zero-tolerance policy for drug possession…

Zimmerman got out of his SUV to follow Trayvon on foot. When a dispatch employee asked Zimmerman if he was following the 17-year-old, Zimmerman said yes. The dispatcher told Zimmerman he did not need to do that.

There is about a one-minute gap during which police say they're not sure what happened.

Zimmerman told them he lost sight of Trayvon and was walking back to his SUV when Trayvon approached him from the left rear, and they exchanged words.

Trayvon asked Zimmerman if he had a problem. Zimmerman said no and reached for his cell phone, he told police.

Trayvon then said, "Well, you do now" or something similar and punched Zimmerman in the nose.

Zimmerman fell to the ground and Trayvon got on top of him and began slamming his head into the sidewalk, he told police…

Zimmerman then shot Trayvon once in the chest from very close range, according to authorities.
Trayvon's family has confirmed the empty pot baggie as the reason for his suspension.
Trayvon's girlfriend — through a Martin family lawyer — earlier provided this account of the initial exchange, which she heard while talking to Trayvon on his phone:
Eventually, he would run, said the girl, thinking that he'd managed to escape. But suddenly the strange man was back, cornering Martin.

"Trayvon said, 'What are you following me for,' and the man said, 'What are you doing here.' Next thing I hear is somebody pushing, and somebody pushed Trayvon because the head set just fell. I called him again, and he didn't answer the phone."
So, do we know any more than we did? Not really. Not yet. Who approached whom? Who threw the first punch? There may yet be a witness who saw the fight begin. There may yet be more details that Trayvon's girlfriend heard over the phone, but the family lawyer didn't disclose.
The rest of us simply don't know.
Update: ABC News, via Tommmcatt:
George Zimmerman, the neighborhood watch crime captain who shot dead 17-year-old Trayvon Martin, originally told police in a written statement that Martin knocked him down with a punch to the nose, repeatedly slammed his head on the ground and tried to take his gun, a police source told ABC News.
The Orlando Sentinel has also updated its story above:
There have been no reports that a witness saw that initial punch Zimmerman told police about.
And:
But after the Sentinel story appeared on the newspaper's website Monday morning, City Manager Norton Bonaparte Jr. issued a news release, saying there would be an internal affairs investigation into the source of the leak and if identified, the person or people involved would be disciplined.

He did not challenge the accuracy of the information.
So: The police leaked the story to the Sentinel. And, apparently, to ABC. The ABC story mentions the gun. The Sentinel story doesn't.
Add a Comment
Please
log in
to post a comment