New Witness is Old Witness Who Saw Part of Fight But Didn't See Start of Fight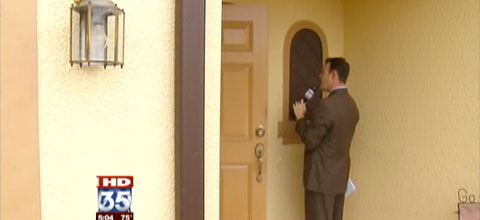 Back on February 27, Fox Orlando reported on a local shooting that happened the night before:
A man who witnessed part of the altercation contacted authorities.

"The guy on the bottom, who had a red sweater on, was yelling to me, 'Help! Help!' and I told him to stop, and I was calling 911," said the witness, who asked to be identified only by his first name, John.

John said he locked his patio door, ran upstairs and heard at least one gun shot.

"And then, when I got upstairs and looked down, the guy who was on the top beating up the other guy, was the one laying in the grass, and I believe he was dead at that point."
This corroborates a few details we already know. There was a fight. George Zimmerman was wearing a red jacket. Zimmerman was the man yelling for help on the 911 tapes. His back was wet and covered with grass. He was bleeding out the nose and the back of his head.
It does not, however, tell us anything new.
Which didn't stop Fox Tampa Bay (85 miles away) from running this version of the same story — with the same video — Friday night:
A witness we haven't heard from before paints a much different picture than we've seen so far of what happened the night 17-year-old Trayvon Martin was shot and killed.

The night of that shooting, police say there was a witness who saw it all.
Well, no. The police don't say that at all. The witness doesn't say it. Only Fox Tampa Bay says it.
Well, Fox Tampa Bay and the Daily Mail — which rewrote the local Fox story and added this fun twist:
This account is drastically different from the portrait painted of Martin by his friends and acquaintances.
Judge that for yourself, but the account does not conflict with what Trayvon's girlfriend said he was telling her on the phone at that moment:
"Trayvon said, 'What are you following me for,' and the man said, 'What are you doing here.' Next thing I hear is somebody pushing, and somebody pushed Trayvon because the head set just fell. I called him again, and he didn't answer the phone."
Only two people know for certain how that fight started. One isn't talking, and the other isn't able to. Anything else you hear is, as we say in the journalism biz, bullshit.
Add a Comment
Please
log in
to post a comment