Dan Riehl is Not a Racist, But He Plays One on the Internet

Our guest columnist is not Andrew Breitbart.
Among a few interesting items uncovered in trying to examine the facts behind the shooting of Florida teenager Trayvon Martin without drawing any conclusions, was that a widely viewed photograph of Martin appears to have been altered, somewhat.
Here [left] is what appears to be the original via the Miami Herald.
The one [right] has been observed in the media and at forums such as Democracy Now. Clearly, it has been lightened, or softened, somehow. Along with other possible alterations, he looks far more, perhaps innocent is the right word, in the altered image. For the record, that has nothing to do with the guilt, or innocence, of anyone involved, but more to do with the reporting of the story, which is why I'm bringing it up.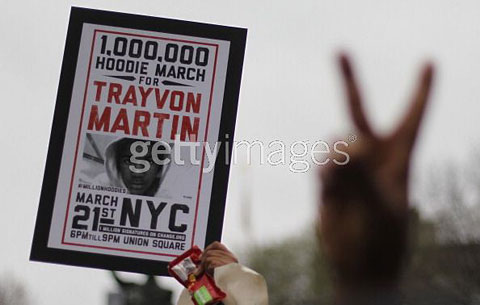 If you follow the Miami Herald link, the caption reads "A photo of Trayvon Martin wearing a hoodie was used on banners and signs carried by protesters in New York City on March 21, 2012. MARIO TAMA / GETTY IMAGES". Above is a typical photo from that set that might have been cropped by the Miami Herald instead of using the original. Dan Riehl's eagerness to declare that one looks more "innocent" than the other by no means indicates that he a fucking bigot.
Add a Comment
Please
log in
to post a comment