The Postman Always Finks Twice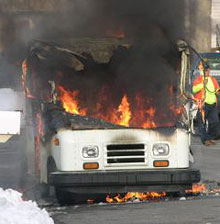 Our guest columnist has submitted the following affidavit to Sheriff Joe Arpaio's "Cold Case Posse" investigating Barack Obama's birth certificate.
Allen Hulton, being duly sworn, on oath deposes and says:
I am a resident of Belvidere, Illinois. I have personal knowledge of the facts contained herein.
I was employed by the United States Postal Service in DuPage County, Illinois, as a letter carrier from March 28, 1962 to March 30, 2001, on which date I retired. Attached hereto as Exhibit A are documents that support that I was employed with the United States Postal Service.
From late 1986 to 1997, I served at the Glen Ellyn, Illinois post office, postal zip code 60137. My primary duty at the time was to deliver mail on Route 6.
During my time at the Glen Ellyn, Illinois post office, I delivered mail to [redacted] Glen Ellyn, Illinois, the residence of Thomas and Mary Ayers, who were the parents of Weather Underground activist, Bill Ayers. The area in which they lived was upper middle to upper class. Thomas Ayers was the president of Commonwealth Edison at the time.
While making deliveries to [redacted] Glen Ellyn, Illinois, I spoke with Mary Ayers approximately 18 to 20 times, and with Thomas Ayers on at least one occasion. I also delivered certified letters to Weather Underground activist Bernadine Dohrn several times at the [redacted] who was staying with the Ayers for a short period of time. I knew who Bernadine Dohrn was at the time I was delivering the mail, but I did not have any conversations outside of obtaining her signature for the letters.
During this time, I never met Bill Ayers; however, I attended Glen Bard High School (now Glen Bard West) with Tim Ayers, Bill Ayers older brother. I would have graduated in 1961. I did not graduate with my class, but I did receive my GED while in the service. It was this relationship with Tim Ayers that allowed me to speak more easily with Mary Ayers.
When delivering certified mail to Ms. Dohrn, I was aware that she was not a people person. At our class reunion, approximately 5 years ago, I asked Tim Ayers about Ms. Dohrn. Tim Ayers stated "She's a star," and bragged about how her students loved her.
I recall speaking with Thomas Ayers on one occasion shortly after the Ayers had moved onto my route. When we spoke about my job with the postal service, Thomas Ayers spoke like a Marxist and talked about the class struggle between the rich and the poor.
In the early 1990s, I spoke with Mary Ayers who told me she was impressed with a foreign, black student. I do not recall from what country she said he was. I recall that the student had an unusual, foreign sounding name. Mary stated Thomas Ayers was helping this student through school financially.
A period of time, I am not sure of the exact period of time, after the conversation with Mary Ayers, while delivering mail to the Ayers' residence, I was approached by a young, black male in front of the house and struck up a conversation I with him. The male introduced himself. He had an unusual, foreign sounding name. The male stated he was there to thank the Ayers family for the help they had provided him with his schooling. The male was young, tall, thin, had a light complexion, and had ears that stuck out. He was polite, articulate and spoke with no foreign accent. He stated during the conversation the male stated that he was "going to be" President of the United States. I was taken aback by this statement because he came across as if his presidency was prearranged.
During the 2008 presidential campaign, I saw several news reports detailing a relationship between candidate Barack Obama and radical activist Bill Ayers. These stories reminded me of my conversations with the Ayers and my encounter with the young black male with the foreign sounding name. The facial and physical characteristics, as well as candidate Obama's voice, matched that of the young black male I met at the Ayers' home. I am positive that the black male I spoke with in front of the Ayers house that day was indeed a young Barack Obama.
Postman: Ayers Family Put 'Foreigner' Obama Through School [WND]
Add a Comment
Please
log in
to post a comment