The Busybodying of America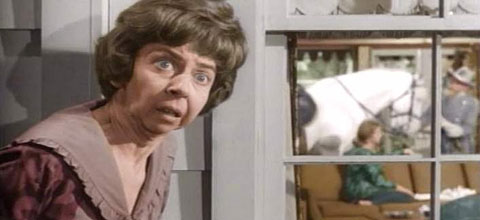 Over the weekend, when we weren't thinking about what everybody else is thinking about, we found ourself thinking about people who don't know us, but who think about us nonetheless.
The first is Mark T. Mitchell, who is married with three sons, and who is disturbed by our bachelorhood:
Living alone can lead to a disposition that I am center of the universe, which is precisely the false notion held by children and which parents spend plenty of time countering. If I live alone, when I eat, sleep, brush my teeth, and exercise I must ask leave of no one and can to exactly as I please. I never have to make a meal out of something I despise because it is the favorite of someone else. I don't have to get up in the night to help a sick roommate or spouse, to rub a sore back, fetch a glass of water, or get an extra blanket to stave of the chills of fever. If I do any of these things, it is solely for myself and no other. My schedule is my own and my life is arranged so that I need to defer to no one. As attractive as all this might sound (and I can admit the attraction), I'm not sure it's healthy.
It's extremely rare that we have the curious pleasure of a complete stranger questioning our lifestyle, but we can assure Mr. Mitchell that our life is no less healthy than that of those who question the lifestyles of complete strangers.
Plus, we sleep in every day, which is a lot healthier than setting an alarm.
The second example is Walter Russell Mead, who isn't satisfied just to question our lifestyle, but is eager to bring our parents into it:
The intensity of the partnership between the parents didn't fade away completely in the 20th century, but the separation of work and home inevitably reduced the centrality of the pair bond in the lives of both halves of the couple…

If we wonder why marriage isn't as healthy today in many cases, one reason is surely that the increasing separation of the family from the vital currents of economic and social life dramatically reduces the importance of the bond to both spouses — and to the kids.
As it happens, both our parents worked their entire working lives, while raising two kids. The term wasn't yet invented, but we were a latchkey kid once we outgrew the after-school babysitter, yet it didn't diminish the importance of having someone around to pay our allowance. We can't speak for every Middle American mid-century family, but ours seems to have survived — and the "pair bond" between our parents will soon be celebrating its sixtieth anniversary.
There's nothing special about Mr. Mitchell or Mr. Mead, other than their knack for getting blockquoted by Andrew Sullivan. But what strikes us about their vapid observations is that they are a genteel form of the political observations that everybody is thinking about: The American need to nose into the sexual habits and romantic attractions of their countrymen and countrywomen.
We just can't help but be concerned about what our neighbors are doing behind closed doors, because it might not meet our exacting and eccentric standards. And if there's the slightest deviation from the standards of [insert preferred historical era here], then we have a problem.
Never mind that the "standards" of any given era are just averages that obscure a lot of exceptions.
Societies evolve. Lifestyles evolve. At any given moment, billions of people are trying to make the best of a bizarre condition called Living on Earth. And however troubling their choices seem today, rest assured that in sixty years, today will be the standard by which our descendants pointedly judge each other.
Add a Comment
Please
log in
to post a comment