Douchebag of the Day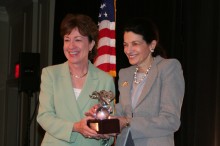 Frank Bruni's lamentation over Olympia Snowe's departure from the Senate is disgusting:
She moved, dressed and treated people — even reporters, and even when we hounded her through the hallways of the Capitol — with an unforced, uncommon graciousness. She spoke with intelligence and almost never with vitriol.

But those weren't the main reasons we had such soft spots for her. We liked her best for her disobedience. Unlike the majority of her colleagues in the Senate, be they Democrats or, like her, Republicans, she dared to disagree with her party. Often. And she did it publicly, with her votes and her forthright explanations of them.
Snowe (and Susan Collins, also of Maine) voted for the Iraq War. They voted with Bush most of the time and only became "mavericks" when it was clear the Boy King would get what he wanted anyway. They, and others like them, should be driven from polite society.
Add a Comment
Please
log in
to post a comment