¿Cómo se dice "diaper" en el español?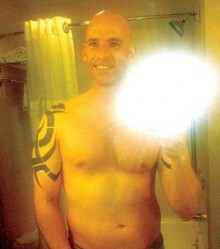 Arizona's Pinal County Sheriff Paul Babeu hates the brown people almost as much as his bro Joe Arpaio does. He's the darling of the Tea Party, he appeared in a 2010 ad for McCain and appears frequently on Faux News to denounce the socialist president for not building a bigger fence. And of course, he's not a friend of the gheyz.  Oh, and he's running for the GOP nomination for Arizona's new Congressional seat.
So you know where this is going, boys and girls…
Babeu threatened his Mexican ex-lover with deportation when the man refused to promise never to disclose their years-long relationship, the former boyfriend and his lawyer tell New Times.
Babeu met his ex-lover Jose online at gay.com (naturally), and affectionately referred to Jose as "Papi." Speaking of his online profile…
In the photographs, the sheriff revealed himself shirtless, in his underwear, and naked from the waist down. …Babeu's alleged adam4adam.com profile — which since has been blocked — listed him as a "good guy looking for another." He called himself "studboi1," described himself as "str8 acting, hard working and loyal," and said he was openly gay, looking for friendship and "1-on-1" sex.  While still in what he thought was a monogamous relationship with Babeu, Jose says, he had stumbled upon the sheriff's page on adam4adam, which is peppered with pornographic images of men having intercourse. He says he confronted Babeu and that the sheriff told him it was an old profile.
So, Stinquers, how many diapers?
UPDATE:  Nojo passed me a note in the back of class letting me know that Sheriff Babeu is/was Mittens' Arizona campaign co-chair.
Add a Comment
Please
log in
to post a comment