Laws Are Like Sausagefests II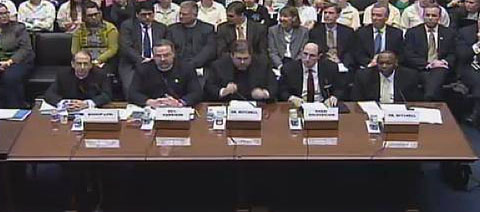 If you've been paying attention to the politics surrounding women's issues for very long, then congressman Darrel Issa's controversial hearing on contraception yesterday may have had an oddly familiar ring to it. You may have experienced a sense of deja vu, a feeling that somehow we've all been here before, that none of this was particularly new. But maybe you just can't quite put your finger on what it is about Issa's Inqusition that makes you feel this way. Was it the way that women's voices were systematically excluded from the hearings? Was it the way that Democrats were not permitted to offer any witnesses of their own? Was it the singular arrogance and patronizing tone of the hearings? Perhaps.
Or maybe it was something else entirely… perhaps it was something distinctly visual.  Permit me to jog your memory a bit. The sense of the uncanny you are experiencing is probably motivated by that photo that's spread across the internets like a virus, you know the one I'm talking about: the one showing a row of five male witnesses invited to stand before the People's House and pontificate on the evils of providing contraception to women, with nary a female witness in sight. The reason it seems so familiar may be that it has a political doppleganger, a virtual twin from the year 2003. That was the year that a Republican president signed a bill that, with no medical justification, criminalized a medical procedure known as "intact dilation and extraction" or as opponents refer to it: partial birth abortion.
Reproduced below the fold (to allow you a few moments to put down any breakable heirlooms you may be holding, or to ask an impressionable child to leave the room) is an image of the signing of that bill: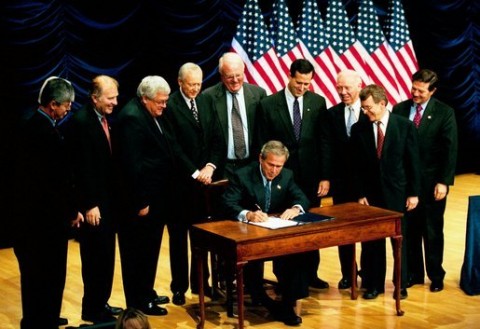 If at times you get the feeling that the Republican Party resembles nothing so much as a tree-house with a "NO GerlS Alloud" sign affixed o it, then you are not alone. It really is that bad. And the fact that medical issues that every day touch and affect the lives of millions of women across the nation are so often legislated by a pack of power hungry men who see them, principally, as a powerful electoral wedge issue, a weapon to be wielded in the culture wars, is a crime if ever there was one.
Add a Comment
Please
log in
to post a comment