Raise a cup to the GOP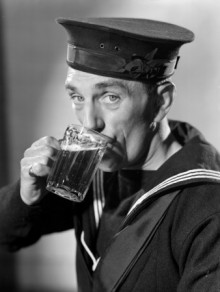 So , in case you haven't heard already, Rick Santorum ran away with three primary contests last night. I've been struggling hard to think of an analogy that might help illustrate what this means for the GOP going forward, and do so in a way that is easy for people without political science degrees to understand*. Finally after hours of struggling with it, I think I've come up with a good one:
Imagine the GOP is a sailor adrift at sea, holding a cup full of warm piss. The sea represents mainstream political opinion, the cup represents the GOP nomination race and the warm piss represents Mitt Romney. GOP voters can't drink the salty seawater because… well, they're crazy Teabaggers and they'll die of dehydration if they try to drink mainstream seawater. Less toxic to them, is the warm piss. They can drink it, of course, and it will keep them alive, and they were pretty much resigned to it for while there, but that doesn't mean they have to like it. Then came along Newt Gingrich. Gingrich is like an ugly, gnarled, twisted spoon that's been caught in the disposal a few times, but somehow managed to stay in the silverware drawer nonetheless. Well, Gingrich drops into the race (the cup) and really starts stirring things up, getting the Teabaggers all hot and bothered. But then after Florida, he's pretty much out. The spoon is tossed into the sink (and will probably fall into the disposall one more time). And then, just as Teabaggers were lifting the cup to their lips, something that no one expected happens. Absent a gnarled spoon to stirr it, the piss begins to settle and a frothy foam rises to the top. That would be Rick Santorum. He's the foam.
So the question is this: will Rick Santorum run away with this thing? Will GOP voters lick the frothy foam off the top of the cup and pour the piss into the moderate ocean where they think it (Romney) belongs? Or will they come to their senses and realize that the head of a cup of warm piss that is Rick Santorum stands about as much chance of beating Barack Obama in November as a literal head of foam off a cup of warm piss.
Stay tuned!
*Full disclosure: I do not have a poly sci degree either.
Add a Comment
Please
log in
to post a comment