Can James O'Keefe Do the Time?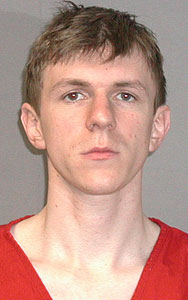 Breaking voter-fraud news!
A mystery man trying to vote in the New Hampshire primary using a dead man's name got caught by an eagle-eyed voting supervisor in Manchester, then disappeared before police could corral him.

"We take a lot of pride in this primary," Gloria Pilotte, the Ward 9 supervisor who stopped the voter fraud, told the Herald.

"I'm very confident about the way we do this in New Hampshire."
Whew. That was close. Who knows what wingnuts would have done with a certified case of voter fraud!
Unless it was wingnuts who did it:
It was one of the few — if not the only — coordinated efforts to attempt in-person voter fraud, and it was pulled off by affiliates of conservative activist James O'Keefe at polling places in New Hampshire Tuesday night. All of it part of an attempt to prove the need for voter ID laws that voting rights experts say have a unfair impact on minority voters.

Now election law experts tell TPM that O'Keefe's allies could face criminal charges on both the federal and state level for procuring ballots under false names, and that his undercover sting doesn't demonstrate a need for voter ID laws at all.
Despite what Experts Say, the New Hampshire U.S. Attorney's Office hasn't yet decided whether to pursue the matter. But America can rest easy that James O'Keefe is on the case, committing crimes to prove that crimes can be committed.
Add a Comment
Please
log in
to post a comment