When We Were Ducks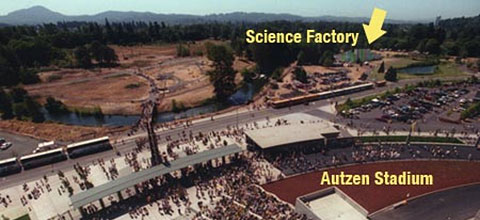 We were born two blocks off the University of Oregon campus, around the corner from what would later be filmed as the Animal House. We don't recall whether we were there for Autzen Stadium's opening day in 1967, but we would haunt the endzone "Knothole Gang" with the other kids soon enough.
(Note: Autzen Stadium is cement, and has no knotholes.)
We watched Fouts. We watched Norv. We watched Bobby Moore, who would grow up to be Ahmad Rashad and marry Bill Cosby's wife.
Our high school played its football games there Friday nights. Then, and for a couple years in college, we played trumpet in the marching band. We were intensely jealous of the Stanford band, which got to run around and have fun while we were stuck doing the same goddamn circular formation halftime after halftime after halftime. The fifth time it was announced, the fans started booing. We agreed with them.
But none of it mattered. The Ducks sucked. They were featured in the satirical "Bottom Ten" column so often, the local newspaper canceled it. That was a sad day. We enjoyed being losers. Hey, it's only football. No point taking it seriously.
We loved that about Eugene.
Unfortunately, people wealthier than us had other ideas.
The money started pouring in during the Eighties. By late in the decade, the Ducks started qualifying for third-rate bowls. Now, instead of sucking, they were beginning to suck all the air out of the room. Eugene only weighs about 130,000 people, dripping wet. A semi-successful football team is going to draw more than its share of attention. It's going to matter. Eugene isn't big enough for that.
The bigger they got, the less we liked the town. Part of it was just the natural evolution of things — Eugene was always changing — but the Ducks symbolized everything that was frustrating us about the place. We grew up a Charlie Brown in a Charlie Brown town, happy underdogs. But everybody was turning into Lucy.
We left just in time, twelve years ago, before bitterness could set in. And now, a quarter-century after the local leaders got serious about spending serious money on Sport, the Ducks are playing in the national championship.
And, well, we really don't care. Because, growing up, we didn't need a successful football team to feel pride in Eugene.
All we really needed to know was that it wasn't Springfield.
If that BCS reference sounds odd, it's because we wrote all the above last January, in anticipation of the Big Game. We eventually only posted the first part, leaving the rest to gather dust in our StinquePad all year.
Until yesterday:
In a National Bureau of Economic Research paper this month, economists Jason Lindo, Issac Swenson and Glen Waddell tracked how much female students at the University of Oregon were outperforming male students on grade point averages. They then mapped that against the number of wins the school's football team had that season. And they found that, when the Oregon Ducks did better, the male students did worse.
And why might this be?
Male students said they tended to drink more and study less after a football victory.
Speaking from very happy experience, we have a very hard time buying that explanation: College football games are played Saturday afternoon, and win or lose, you're partying Saturday night anyway.
But: If your team sucks, Saturday afternoon is all the attention you're paying it. You're not preoccupied with the Monday rankings, the Friday pep rallies, the Rose Bowl travel plans…
In any event, we're a thousand miles south, and it's no longer our battle to fight. We're just happy to finally get that fucking football post off our StinquePad.
Add a Comment
Please
log in
to post a comment