My Life as a Duck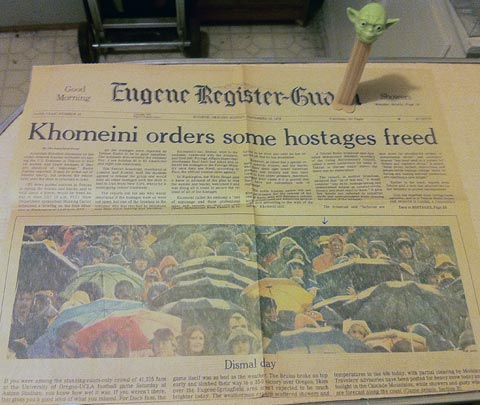 Eugene Register-Guard, Sunday, November 18, 1979:
Khomeini orders some hostages freed
No, not that.
Showers
No, not that either. Lower.
Dismal day

If you were among the standing-room-only crowd of 41,235 fans at the University of Oregon-UCLA football game Saturday at Autzen Stadium, you know how wet it was. If you weren't there, this gives you a good idea of what you missed. For Duck fans, the game was as bad as the weather. The Bruins broke on top early and sloshed their way to a 35-0 victory over Oregon…
Okay, fine. It rained and the Ducks sucked, neither of which was news in 1979. So what are we doing with a generation-old newspaper clipping in the files?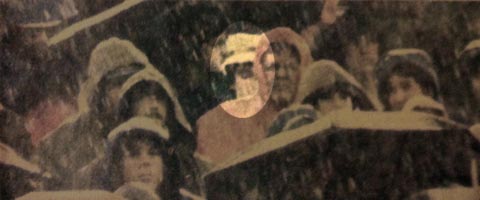 Ah. The Man in the Yellow Hat mocks our anti-Sport pride.
In which case, we're condemned to announce that our BCS Open Thread/Knothole Gang/What the Hell is a Knothole Gang? takes flight at 8pm Eastern. Don't do it for us. Do it for that idiot kid who had nothing better to do than watch a crappy football game during a downpour. Maybe he'll share the flask he's hiding.
How We Saved Donald Duck [Stinque, 1/1/2010]