The Men Who Possess More Than They Have Earned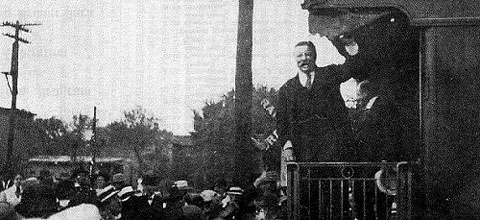 Our guest columnist is Theodore Roosevelt, speaking in 1910 at the dedication of a John Brown memorial in Osawatomie, Kansas. The speech, substantially written by Gifford Pinchot, was decried in some corners as "Communistic", "Socialistic", and "Anarchistic". In a sign of how far Our Exceptional Nation has fallen, Roosevelt's face has yet to be blasted off Mount Rushmore.
In every wise struggle for human betterment one of the main objects, and often the only object, has been to achieve in large measure equality of opportunity. In the struggle for this great end, nations rise from barbarism to civilization, and through it people press forward from one stage of enlightenment to the next. One of the chief factors in progress is the destruction of special privilege. The essence of any struggle for healthy liberty has always been, and must always be, to take from some one man or class of men the right to enjoy power, or wealth, or position, or immunity, which has not been earned by service to his or their fellows. That is what you fought for in the Civil War, and that is what we strive for now.
At many stages in the advance of humanity, this conflict between the men who possess more than they have earned and the men who have earned more than they possess is the central condition of progress. In our day it appears as the struggle of freemen to gain and hold the right of self-government as against the special interests, who twist the methods of free government into machinery for defeating the popular will. At every stage, and under all circumstances, the essence of the struggle is to equalize opportunity, destroy privilege, and give to the life and citizenship of every individual the highest possible value both to himself and to the commonwealth. That is nothing new. All I ask in civil life is what you fought for in the Civil War. I ask that civil life be carried on according to the spirit in which the army was carried on. You never get perfect justice, but the effort in handling the army was to bring to the front the men who could do the job. Nobody grudged promotion to Grant, or Sherman, or Thomas, or Sheridan, because they earned it. The only complaint was when a man got promotion which he did not earn.
Practical equality of opportunity for all citizens, when we achieve it, will have two great results. First, every man will have a fair chance to make of himself all that in him lies; to reach the highest point to which his capacities, unassisted by special privilege of his own and unhampered by the special privilege of others, can carry him, and to get for himself and his family substantially what he has earned. Second, equality of opportunity means that the commonwealth will get from every citizen the highest service of which he is capable. No man who carries the burden of the special privileges of another can give to the commonwealth that service to which it is fairly entitled.
I stand for the square deal. But when I say that I am for the square deal, I mean not merely that I stand for fair play under the present rules of the game, but that I stand for having those rules changed so as to work for a more substantial equality of opportunity and of reward for equally good service. One word of warning, which, I think, is hardly necessary in Kansas. When I say I want a square deal for the poor man, I do not mean that I want a square deal for the man who remains poor because he has not got the energy to work for himself. If a man who has had a chance will not make good, then he has got to quit. And you men of the Grand Army, you want justice for the brave man who fought, and punishment for the coward who shirked his work. Is that not so?
Now, this means that our government, National and State, must be freed from the sinister influence or control of special interests. Exactly as the special interests of cotton and slavery threatened our political integrity before the Civil War, so now the great special business interests too often control and corrupt the men and methods of government for their own profit. We must drive the special interests out of politics. That is one of our tasks to-day. Every special interest is entitled to justice — full, fair, and complete — and, now, mind you, if there were any attempt by mob-violence to plunder and work harm to the special interest, whatever it may be, that I most dislike, and the wealthy man, whomsoever he may be, for whom I have the greatest contempt, I would fight for him, and you would if you were worth your salt. He should have justice. For every special interest is entitled to justice, but not one is entitled to a vote in Congress, to a voice on the bench, or to representation in any public office. The Constitution guarantees protection to property, and we must make that promise good. But it does not give the right of suffrage to any corporation.
The true friend of property, the true conservative, is he who insists that property shall be the servant and not the master of the commonwealth; who insists that the creature of man's making shall be the servant and not the master of the man who made it. The citizens of the United States must effectively control the mighty commercial forces which they have called into being.
There can be no effective control of corporations while their political activity remains. To put an end to it will be neither a short nor an easy task, but it can be done.
We must have complete and effective publicity of corporate affairs, so that the people may know beyond peradventure whether the corporations obey the law and whether their management entitles them to the confidence of the public. It is necessary that laws should be passed to prohibit the use of corporate funds directly or indirectly for political purposes; it is still more necessary that such laws should be thoroughly enforced. Corporate expenditures for political purposes, and especially such expenditures by public-service corporations, have supplied one of the principal sources of corruption in our political affairs…
I believe that the officers, and, especially, the directors, of corporations should be held personally responsible when any corporation breaks the law.
Combinations in industry are the result of an imperative economic law which cannot be repealed by political legislation. The effort at prohibiting all combination has substantially failed. The way out lies, not in attempting to prevent such combinations, but in completely controlling them in the interest of the public welfare…
The absence of effective State, and, especially, national, restraint upon unfair money-getting has tended to create a small class of enormously wealthy and economically powerful men, whose chief object is to hold and increase their power. The prime need to is to change the conditions which enable these men to accumulate power which it is not for the general welfare that they should hold or exercise. We grudge no man a fortune which represents his own power and sagacity, when exercised with entire regard to the welfare of his fellows. Again, comrades over there, take the lesson from your own experience. Not only did you not grudge, but you gloried in the promotion of the great generals who gained their promotion by leading their army to victory. So it is with us. We grudge no man a fortune in civil life if it is honorably obtained and well used. It is not even enough that it should have been gained without doing damage to the community. We should permit it to be gained only so long as the gaining represents benefit to the community. This, I know, implies a policy of a far more active governmental interference with social and economic conditions in this country than we have yet had, but I think we have got to face the fact that such an increase in governmental control is now necessary.
No man should receive a dollar unless that dollar has been fairly earned. Every dollar received should represent a dollar's worth of service rendered — not gambling in stocks, but service rendered. The really big fortune, the swollen fortune, by the mere fact of its size, acquires qualities which differentiate it in kind as well as in degree from what is possessed by men of relatively small means. Therefore, I believe in a graduated income tax on big fortunes, and in another tax which is far more easily collected and far more effective — a graduated inheritance tax on big fortunes, properly safeguarded against evasion, and increasing rapidly in amount with the size of the estate…
I believe in shaping the ends of government to protect property as well as human welfare. Normally, and in the long run, the ends are the same; but whenever the alternative must be faced, I am for men and not for property, as you were in the Civil War. I am far from underestimating the importance of dividends; but I rank dividends below human character. Again, I do not have any sympathy with the reformer who says he does not care for dividends. Of course, economic welfare is necessary, for a man must pull his own weight and be able to support his family. I know well that the reformers must not bring upon the people economic ruin, or the reforms themselves will go down in the ruin. But we must be ready to face temporary disaster, whether or not brought on by those who will war against us to the knife. Those who oppose reform will do well to remember that ruin in its worst form is inevitable if our national life brings us nothing better than swollen fortunes for the few and the triumph in both politics and business of a sordid and selfish materialism.
Historical background: Theodore Roosevelt's Osawatomie Speech [Kansas Historical Quarterly, 1966]
Add a Comment
Please
log in
to post a comment