This is Fun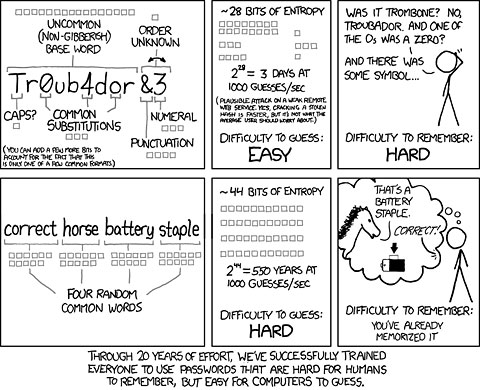 We've been a geek since age 15, although we took a decade off to explore other things before being dragged back in. (We used to blame it on buying an answering machine, which ended our Luddite Interval forever.) These days we earn a serious part of the rent by developing and maintaining websites, which means we've spent a serious amount of time thinking about passwords.
About which, we discovered last night, we've been seriously wrong.
Our derangement was caused by this XKCD cartoon that's been making the rounds — we found it at WaPo, of all places. We've been very guilty of the crime described: programming requirements for gibberish passwords, for your own good. The more unusual characters, the more difficult to crack, right?
Well, not exactly:
It is 10 times more secure to use "this is fun" as your password, than "J4fS<2".
We'll spare you the math, but "this is fun" is eleven characters — with spaces — and, importantly, three random words. It would only take 2,537 years to crack it online.
Even better: By requiring gibberish characters — or numbers, or caps — you're actually making the password easier to crack, by limiting the number of possible combinations.
So why the insistence on gibberish passwords?
Our guess is that it's a combination of history and human nature. Computers have evolved very quickly, and we're not that far from the days when systems could only handle six or eight characters — so "J4fS<2" is better than, say, "coffee". Plus, it's a running gag in geekdom that the most common password is "password", so requiring gibberish is a means to save you from yourself.
And since human nature doesn't change, an argument can still be made for the utility (if not the memorability) of gibberish. But that's not an argument from math or logic. "This is fun" — or some three-word variation on your porn name — is perfectly secure.
It just doesn't look that way.
Add a Comment
Please
log in
to post a comment