Thin Crust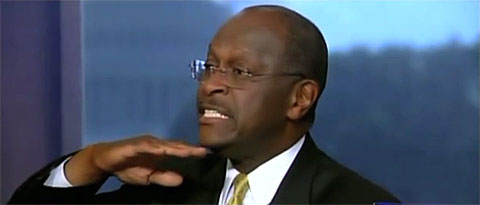 There hasn't been much news since Sunday night, when Politico committed journalism — Related: Hell freezes over! — and broke the story of Herman Cain!'s exuberant hospitality at the Other NRA. Sure, his memory seemed to slowly clear up throughout the day Monday — memory that hadn't been jogged when reporters contacted him days earlier — but we've been awaiting the drip-drip-drip of Further Revelations.
Like, oh, this:
The National Restaurant Association gave $35,000 — a year's salary — in severance pay to a female staff member in the late 1990s after an encounter with Herman Cain, its chief executive at the time, made her uncomfortable working there, three people with direct knowledge of the payment said on Tuesday.
The women involved remain Politico's protected sources, even if one of them is now asking to be released from the confidentiality agreement following the payout. But the detail of not just the amount of the payout, but the term it represented, suggests that more was involved than just a creative demonstration of Mrs. Cain!'s height. This ain't no standard severance. Nor does it seem to be the standard go-away money that might be offered in lieu of paying for a trial.
Then again, we're still waiting to see whether any of this matters. Lefty glee is one thing, but Cain!'s been going to the bank on pleas of racial victimhood — $400,000 raised since the story broke. If the Wingnuts don't care, all this amounts to is ammunition against a silly candidate who doesn't stand a chance anyway.
As to the Missus, we were initially delighted to learn that she would be granting an interview this week — which itself keeps the story alive for at least another day. But then we learned it would be with Greta Van Susteren, and we figured there are better options Friday night for hot girl-on-girl action.
Add a Comment
Please
log in
to post a comment