It Seemed Like Such an Easy Way to Make $100 at the Time…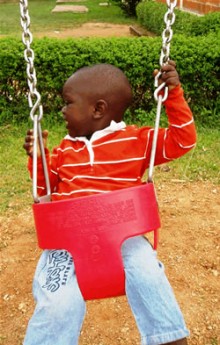 A 21-year-old (obviously drunk, obviously unnamed) man had to be cut out of a children's swing set in a Vallejo, CA park this weekend after getting stuck in the seat during an ill-fated $100 bet with friends.  Around 9 pm on Friday, the man greased up his legs with liquid detergent and got in the bucket seat, but then his legs started swelling, he became stuck, and he could not get out of the seat. His friends left him there, and it wasn't until 6 am Saturday morning that a groundskeeper heard him screaming.  The Vallejo fire fighters who showed up decided that rather than try to cut him out of the seat on the scene, they would cut the chains and transport him to the hospital still in the chair, wearing a giant rubber diaper.
No word yet if he got the 100 bucks.
Add a Comment
Please
log in
to post a comment