Take Me To Your LegoLand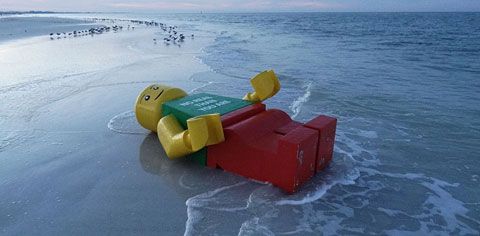 Our guest columnist consists of plastic bricks.
My name is Ego Leonard and according to you I come from the virtual world. A world that for me represents happiness, solidarity, all green and blossoming, with no rules or limitations.
Lately however, my world has been flooded with fortune-hunters and people drunk with power. And many new encounters in the virtual world have triggered my curiosity about your way of life.
I am here to discover and learn about your world and thoughts.
Show me all the beautiful things that are there to admire and experience in your world. Let's become friends, share your story with me, take me with you on a journey through beautiful meadows, words, sounds and gestures.
Giant Lego Man washes ashore in Florida [Boing Boing, via @daveweigel]
Add a Comment
Please
log in
to post a comment